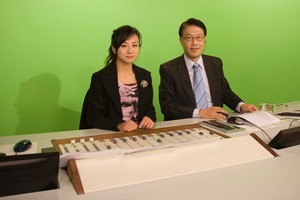 TVNZ's Breakfast programme and TV3's Firstline may be in fierce ratings competition, but the only morning news programme that matters for Chinese housewife Nina Wang is WTV's I Love New Zealand breakfast show.
Thousands of viewers and listeners tune in to the two-hour show every weekday morning between 7.30 and 9.30, and for Mrs Wang, it's how she remains connected with local and international news.
"When I look at newspapers like the New Zealand Herald, I only look at the pictures and the words remain a blur because I cannot read English," she said. "But this show keeps me connected to news that's happening locally and internationally."
WTV chief executive Henry Ho says the programme's anchor Wei Li, or Willy Shen, is popular, and describes him as "the Chinese Paul Holmes".
"Nearly everyone in the Chinese community knows him or at least recognises his voice," Mr Ho said.
The show broadcasts over WTV's free-to-air Chinese TV8 and Chinese Voice radio AM936, and starts with half an hour of Shen and a co-host reviewing the latest local news, featuring many Herald stories.
A China and international news segment follows, with five-minute news updates every half hour.
The high point comes after the 8.30 news update, when callers can air their views in Mandarin in a talkback segment.
"Our callers like the opportunity of being able to participate and have their opinions heard on air in their own language," said Mr Ho.
"Tuning in to this segment has become part of the daily life for many Chinese in New Zealand."
Reporter Ling Ling Liang said the topic for discussion on the programme last Thursday about the $2 million plastic waka attracted about 20 callers to the programme, which is about the daily average.
The phone line heats up when there's a hot topic linked to the Chinese community such as the Pumpkin case and the Kiko murder, she says.