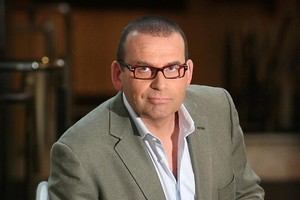 Paul Henry may be on his way back to our screens via TV3, but just who was responsible for his departure from TVNZ is still the subject of debate.
An unnamed TVNZ board member said this week the Government-appointed board supported Henry's departure from the state broadcaster - but on the recommendation of management.
The board member, who spoke to the Herald on Sunday on condition of anonymity, said the board had discussed Henry's resignation after a racism row.
Henry resigned from Breakfast in October after outrage about his remarks on Governor-General Sir Anand Satyanand and Delhi minister Sheila Dikshit.
The board member said the board had unanimously decided to rubberstamp the decision from TVNZ management to accept Henry's resignation.
"Management made a recommendation. The board said fine. It was a unanimous decision to accept the recommendation. The board had no part to play in it."
Who made the move on Henry's resignation has been the subject of speculation.
One line of thinking was that board chairman Sir John Anderson, who has personal links to Indian cricket through being the former chairman of New Zealand Cricket, was not in favour of keeping Henry.
Some suggested TVNZ executives Rick Ellis and Anthony Flannery were keen for Henry to weather the storm.
But Sir John denied the board had ever discussed the merits of a resignation.
He said Henry's departure from TVNZ had "nothing to do with the board".
"That's a managerial issue and I suggest you talk to Rick Ellis," he said.
Prime Minister John Key has fiercely defended the principle that TVNZ has statutory independence despite the six-person board being appointed by the Government.
Labour broadcasting spokeswoman Clare Curran said she had concerns about the board's role in TVNZ operations and whether it was meeting its obligations to be independent from Government interference.
"Important questions need to be asked if the board did have a role in endorsing the resignation," she said.
Questions have also been raised about whether MediaWorks used part of a $43 million Government "loan" to finance Henry's contract.
Curran questioned how the cash-strapped company could afford Henry.
Back on air to stir the pot
Paul Henry's comeback prompted many readers to make their feelings known. Here is a selection of their views.
Trouble at home
It's a pity that some of our Indian-based Kiwis are so "precious" (Indians protest Paul Henry's new media job, April 3). Did they ever look at the Wikipedia page on "Caste in India"? Perhaps they should, instead, direct their disgust at the plight of their brethren of the lower castes, back "home".
Ron Durham, Torbay
Just get on with it
I know Henry has been out of line with his comments but he does have to work to support himself, so perhaps it is time everyone let it all die a natural death, so he can get on with it. It's getting to be a little boring hearing about past news ad infinitum ... ad nauseam ... Ann Yandall, via email
Switching off
What does "pushing the boundaries" actually mean? Can't politicians, broadcasters and journalists use simple, easily understood words anymore? If "pushing the boundaries" means being rude, making false accusations, being racist, being reluctant to hide appalling ignorance etc, then why not say so? If a politician or broadcaster uses the term why not ask them exactly what they mean? TV personalities who push boundaries have lost the plot. Those who employ them are more interested in popularity ratings than honest broadcasting standards. I have just programmed my My Sky decoder to automatically record TV1 and Prime News each night. I have, after 15 to 20 years of watching TV3 news, finally had enough. This is one family of viewers they will no longer have.
Ross Mayall, via email
False front
I would like to add my distaste of TV3 appointing someone with racist views and paying him large sums of money. Is TV3 perpetuating apartheid in this country? Don't be fooled by Paul's false front - he is a fox in sheep's clothes. TV3, you let us down big time.
Ronald Singh, Dannemora
Time to forgive
I think the Indians protesting should just get on with life. Paul Henry has already paid for what he said and should be allowed to get on with his life. Even God forgives, so what makes these protesters think they are above God? I haven't watched the TV1 morning show since they kicked Paul out. I think he should season some of what he says with a bit of salt but otherwise he's harmless. People these days take things far too seriously.
Shirley, via email