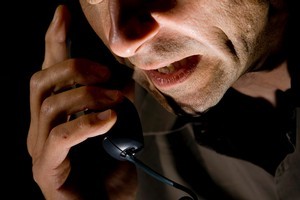 Scammers are increasingly abandoning email and hitting the phones to swindle money from their victims.
Consumer Affairs says scammers are taking a more brazen, direct route because people have grown wise to online cons.
Over the past year there has been a shift to trying to obtain money by telephone cold-calling.
Richard Parlett, team leader for the Consumer Affairs' Scamwatch, said people were becoming more internet savvy, but scammers were targeting their vulnerability when dealing with a human voice.
"There's an instinctive human connection, and the scammers are trying to capitalise on this with a shift in the medium, increasingly away from online."
Scamwatch received about 3800 calls about cons last year - a figure rising year on year.
The organisation estimates that New Zealanders lost at least $450 million last year to scammers.
Mr Parlett said that figure was calculated based on research from Australia and the UK - and was likely to be only the tip of the iceberg.
He said it was sometimes difficult to understand how people kept falling for what seemed obvious scams.
"But it's down to vulnerabilities and these scammers are experts at manipulating and exploiting how vulnerable people can be."
Scamwatch has issued a survey of 1000 New Zealanders' perceptions of cons as part of scam awareness week.
It revealed that 17 per cent of people - the equivalent of 740,000 New Zealanders - received a phone call in the past six months offering to fix non-existent computer problems.
The caller then asks for a credit card number to pay for the problems to be fixed remotely.
That was one of the most common scams at the moment, Mr Parlett said.
Other scams on the increase include callers offering tax refunds or bank account refunds.
Victims are told they must pay a fee for administration before the money can be given to them.
Mr Parlett said the scammers were becoming more sophisticated.
"You've got to remember that for these guys it's their fulltime jobs and they are obviously good at it or they would not be making money."
The Scamwatch survey found most people believed scams originated in Africa.
While that is not necessarily true, the vast majority are overseas.
"Some work in teams in a call centre environment, calling as many people as possible," Mr Parlett said. "And once you pay money overseas it is very difficult to get it back."
In a national survey by the ministry last year, 15 per cent of people said they had been tricked out of money.
The majority of people lost less than $1000, but 13 per cent of the victims lost more than $20,000.
The average loss was $2300.
Scam victims are consistently more likely to respond to another scam offer, research from the UK shows.
People believed that if they had been scammed once it would not happen to them again, the 2009 University of Essex study found.
Scam victims often had successful careers and experience of investments, but were prone to over-confidence.