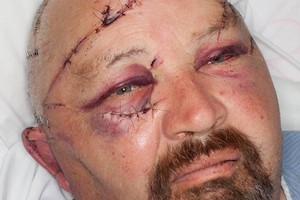 A Manawatu teen was today jailed for eight years and three months for the attempted murder of a Taihape policeman last year.
Japhet Joseph Simiona, 18, of Awahuri, near Feilding, was sentenced at the High Court in Wanganui after earlier pleading guilty to attacking Senior Constable Bruce Mellor with a machete in the early hours of December 11.
Simiona will, however, be eligible for parole in just over four years.
The discount was for an early guilty plea, genuine remorse, and a real prospect of rehabilitation, Judge Robert Dobson said.
But he added the sentence would not begin until Simiona has completed half of the 17 months he is currently serving for other offences.
Mr Mellor was left for dead when he was attacked from behind with a machete after pulling over a stolen red Mazda 323 hatchback in which Simiona and a 14-year-old boy were travelling.
He suffered a fractured skull, a broken eye socket and jaw, broken front teeth, cuts to his face, skull, arms and hands and a massive gash running around his forehead to his ear.
The boy, who has name suppression, also faces the same charge and has been remanded without plea until later this month.
Police spokeswoman Kim Perks yesterday said Mr Mellor was recovering well from his injuries but continued to undergo out-patient treatment and had not yet returned to work.
- NZPA