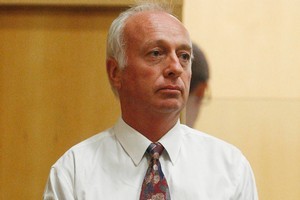 Life is cheap, says David White, the father of Helen Meads, who was shot by her brutal husband in 2009 after she told him she was leaving him.
Her killer, Greg Meads, said by Mr White to be a $40 million man, was sentenced this week to life in jail with a non-parole period of 11 years.
For the life of me I cannot see how 11 years cuts it for the taking of a life in the way he did it. He took a shotgun and fired it into her throat.
What's more, we now know that Meads beat his wife savagely for years, on one occasion crushing her larynx and breaking her nose. That must have been one hell of a beating. How do you crush a larynx?
He sounds to have been a most unpleasant, controlling piece of work. Mr White says he was hoping for 15 years. I would have thought that Meads ought to have got at least that. What the man did, not just on the day of the killing but over time, was frightful.
Last weekend, on NewstalkZB, I interviewed Garth McVicar. I don't know what you think of the Sensible Sentencing Trust, but Garth is a lovely man.
He goes out of his way for people. And in the book he's just published he explains how, while in some cases he has just showed up at court to support victims of violent crime, in most cases it's the people who find him.
And I could not believe what Gil Elliott, Sophie's father, told me a few weeks ago about how much Sophie's murder and its aftermath cost him, financially, alone. Garth is not rabid, he's not a vigilante. He just thinks we went too far from giving real consideration to the needs and the wishes of victims. Garth thinks it's a good thing that our prisons are packed. It means the system is starting to work properly.
Whatever, Greg Meads is going to be stood up to by some very tough customers for a long time. As the Libyan rebels are doing with Gaddafi.
Trouble is, Gaddafi's army is trained and equipped and the rebels are rag-tag amateurs. So they are on the back foot and moving in the wrong direction at the moment. They need to be armed and they need to be trained in the use of the weapons. And that's what the row between the Nato powers is about now.
"US officials" say that Barack Obama has already approved covert support. Well, everyone knew and the Nato countries must certainly have known that air strikes alone were never going to do it. The air strikes have stung Gaddafi. If he was going to butcher the people of Benghazi before them, he most certainly will now, unless Nato arms the rebels and sends them a few people to show them how to use them.
I think that once again, the French will exhibit co-operation constipation and the good old Yanks and the Brits will do the decent thing even though no one knows where it will all end.
Isn't friendshiP a wonderful thing? I have an old mate arriving from the UK this morning, and tomorrow, after Q+A, we'll head to the farm. I haven't seen him since, I don't know, probably 1980. He was the breakfast host at the station at which I got my first radio job in the UK, in Swansea.
Later we worked together setting up a new station just north of London.
Later yet, he got me the radio job in Vienna, Austria. He phoned me one day in Amsterdam, where I worked for Radio Nederland, the Dutch World Service. He said he was in Vienna, at a new radio station broadcasting in English there, and that he'd told the boss about me and that I should send a tape.
Phil and I haven't been in touch for 30 years. Our lives diverged but we had tremendous fun working and playing together once, a long time ago. He is the son of a publican. The first time we went to a pub together was somewhere in the middle of Hertfordshire on a packed Sunday lunchtime. I wasn't getting served. "For God's sake," he said, "Hold up a fiver." The drinks came immediately.
Anyway, we had a remarkable sunset in Hawkes Bay over summer. Deborah photographed it and posted the dramatic pictures on Facebook. Phil, in England, happened to see them, got in touch, and he's arriving this morning.
The thing is, though, even though we haven't seen each other or spoken in 30 years, I've found, talking to him lately on the phone, that it is like I saw him last Friday. Nothing has changed.
Wow! So much to catch up on.