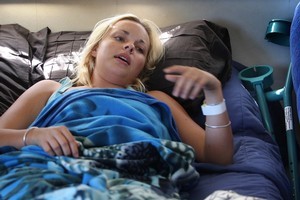 Two teenagers were hit on the road after laughing at a motorist whose car wouldn't start.
In an unusual case of alleged road rage, 19-year-old Taryn Hunter and a friend were struck outside her home in Ohauiti Rd, Tauranga, at 6am on Monday after laughing when they saw a woman pushing a broken-down car while two men were sitting inside it.
Ms Hunter was left injured and lying in the fetal position on the road as an off-duty police officer chased the motorist.
The teenager, who is still recovering from her ordeal, told the Bay of Plenty Times: "Who wouldn't laugh at two men sitting in a little car and making their missus or a woman push them?"
The vehicle's passenger got out before the driver took off up the road, turned around and allegedly made a beeline for Ms Hunter, her boyfriend and her boyfriend's teenage brother.
The group were standing on the side of the road. Ms Hunter and the brother were both hit.
"I heard the car change gear and accelerate ... ," Ms Hunter said.
Witnesses said the impact sent her flying about a metre.
"I know my face hit the windscreen," she said. "I could hear the bonnet buckle underneath me."
Ms Hunter was left lying in a fetal position on the road.
The car sped from the scene as outraged neighbours, and an off-duty police officer, chased after it.
"I remember I couldn't move my legs," said Ms Hunter. "I just freaked out. I didn't know what was going on.
"I seriously didn't think he was going to run me over."
She has a chipped tooth and bruising across her body, and is unable to walk or put weight on either leg despite being given crutches.
Ms Hunter's boyfriend, who did not want to be named, alleged the driver aimed for all three of them.
"He was caning it."
Neighbour Mike Warren said he saw the whole thing.
He said the two groups had a confrontation, the man drove away and did a u-turn before running down the teens.
"I couldn't believe my eyes.
"He hit her straight on," Mr Warren said.
"That's what really made me wild.
"He aimed for her. She's a pretty little thing. Why hit a girl?"
The brother was not seriously hurt, but did not want to comment.
Ms Hunter was taken to Tauranga Hospital.
The incident was also witnessed by two off-duty police officers. One stayed at the scene while the other pursued the driver.
A man appeared in Tauranga District Court on Tuesday and faced two charges of assault using a motor vehicle as a weapon, one of failing to stop and ascertain injury and one of possession of methamphetamine.
Zane Tani Courtney, 21, was remanded on bail without plea and is due back in court next month.
For more articles from this region, go to Bay of Plenty Times