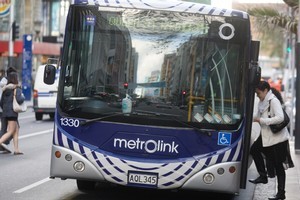 Extra buses are being pressed into service in Auckland to cope with rocketing demand for public transport, driven largely by high fuel prices.
Auckland Transport yesterday reported that the number of people boarding buses, trains and ferries was 9.6 per cent higher in February than for the same month of last year.
That helped to boost public transport patronage for the 12 months until the end of February by almost 5 million passenger trips, to 64 million.
Auckland Transport operations manager Fergus Gammie told Auckland Transport board members that high fuel prices were expected to stimulate even more growth "which we have to manage".
Auckland Transport spokeswoman Sharon Hunter disclosed that NZ Bus had in recent days put larger buses on some routes to cope with the traditional "March madness" public transport peak caused by the return of tertiary students to classes.
It had also put extra capacity on the Central Connector route between Britomart and the university sector in Symonds St, and Ritchies Transport was considering adding buses to the Northern Express service.
Auckland Tramways Union president Gary Froggatt said there was no doubt that high fuel prices had in the past three months put pressure on bus services, causing drivers to fall behind their timetables. Some were going without meal breaks to catch up.
Campaign for Better Transport convener Cameron Pitches is meanwhile calling for a more efficient loading system to be introduced for the Northern Express at Britomart, where he said queues of homeward commuters sometimes extended around the corner from Lower Queen St into Customs St.
Other passengers have complained to the Herald of a lack of space on all-stops buses heading down Dominion Rd to the city during morning peak periods.
One said it often took about 15 minutes to catch a bus from Dominion Rd, compared with five minutes a year ago.
Ms Hunter said she was unaware of any problems on the route, but Auckland Transport was checking data to make sure there were no gaps in services.
NZ Bus was unavailable to comment on whether it had enough buses in service, but it has ordered 120 new vehicles to arrive in June, in time to support a big reorganisation by Auckland Transport of central isthmus routes.
But Auckland Transport board chairman Mark Ford said he did not believe fuel prices were the only cause of such "outstanding" results. "I think it's the quality of services which have improved."
ON THE MOVE
Passenger trips 12 months to Feb 28.
Buses: 50,189,901 - up 7.9 per cent
Trains: 9,233,040 - up 13.5 per cent
Ferries: 4,662,665 - up 3.5 per cent.
Total: 64,085,606 - up 8.3 per cent