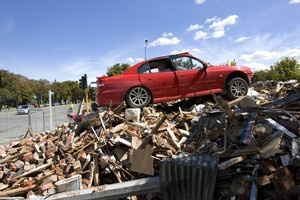 Police are half way through recovering thousands of cars from the Christchurch central business district devastated by the February 22 earthquake.
About 2500 cars have been recovered in what police describe as a large and complicated operation, involving many people.
It is believed up to 5000 cars are in the cordoned off zones.
"We have been very conscious of the fact that being without a car can be a huge challenge and juggling act for many people - particularly if they are a one-car family or need their car for work," Senior Sergeant Graham Reeves said.
Many people had left belongings in their cars and were keen to get them back.
Police had retrieved cars from most public car parks in the CBD and was now retrieving cars from city streets, public spaces, and private and underground car parks.
Hundreds of keys have been registered with the vehicle recovery team but police still urgently need hundreds more from owners who have vehicles in the CBD.
"Once we have keys, details and a location, we can move in and clear different areas over several days."
- NZPA