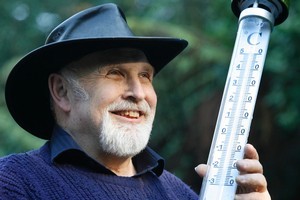 Earthquakes are a part of life in New Zealand, and false predictions only serve to cause extra worry for Cantabrians, says a GNS scientist.
Duty seismologist Caroline Holden, of the Institute of Geological and Nuclear Sciences (GNS), said the predictions by "Moon Man" Ken Ring of another big earthquake on Sunday had no foundation.
"Everyone is entitled to their opinions, but the science community would reaffirm there is no basis for the correlation between large earthquake occurrence and lunar cycles," Dr Holden said. "It is unfortunate that the people of Christchurch were further upset by counterproductive predictions when a much more useful message would be 'to be prepared'.
"New Zealand has been, and always will be, a country where earthquakes are a part of life."
A significant number of Christchurch residents left the city at the weekend after weather forecaster Mr Ring, who bases his theories on the tides and the moon, predicted another big earthquake to hit in Canterbury or Marlborough.
Mr Ring made his first seismic predictions on his predictweather.com website on September 7 - three days after Canterbury's first big earthquake, a magnitude 7.1 . He wrote "the morning of 20 March 2011 sees the South Island again in a big earthquake risk". At 9.44am the moon would be at its closest point to earth for 2011, Mr Ring said.
"All factors should come together for a moon-shot straight through the centre of the earth and targeting NZ. The time will be just before noon. It could be another for the history books."
About 45 people, including geologists, teachers, health professionals, parents and politicians, attended the New Zealand Skeptics "non event" lunch yesterday at the Sign of the Kiwi tearooms in Christchurch. Environment Minister and geotechnical engineer Nick Smith, who attended the lunch, said it was "reckless and irresponsible" for people like Mr Ring to speculate on the timing of future major earthquakes with no scientific basis.
"Cantabrians have been through enough trauma without charlatans preying on people's natural fears."
Survival rates from earthquakes had greatly improved. About one in 100 people died in the Napier and Hastings earthquake in 1931. In Christchurch about one in 2000 people died in last month's quake.
"We can continue to reduce the risks and save more lives but, as the tragic events in Japan have shown, we can never eliminate all loss of life from major earthquakes," he said.
"Scaremongering" from people like Mr Ring played no part in reducing that risk, instead the key was to invest in scientists and engineers to improve knowledge of earthquakes and buildings so they could better withstand them.
Three aftershocks, one a strong 5.1 magnitude, rattled Christchurch late on Sunday night. Three tremors rolled across the city in quick succession - one of 3.0 at 9.43pm, the second of 5.1 four minutes later and the third of 2.9.
The second and third shocks were in almost exactly the same location - 10km east of the city and 10km and 11km deep.
- NZPA