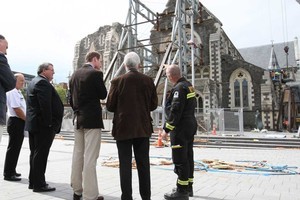 Prince William has been stunned by the scale of devastation inflicted by last month's earthquake in Christchurch after touring the "red zone" in the central city this afternoon.
"The scale of it is unbelievable," the prince said in Latimer Square, near the CTV building in which many lives were lost in the magnitude 6.3 quake on February 22.
His visit is a morale boost for Christchurch as it recovers from the quake, said locals who waited to see him when he visited the Civil Defence hub at the city's art gallery before touring the red zone, which is off-limits to the public.
Dressed in a blue shirt, black jacket and tan trousers, Prince William met Civil Defence controller John Hamilton and chatted with him, Mayor Bob Parker and Earthquake Recovery Minister Gerry Brownlee before going inside the building.
On looker James Sykes said the visit was important for the city as it tried to recover from the quake.
"I'm not what you would call a royalist, but I'm just glad that someone in his shoes decided to come down here," Mr Sykes said.
"It shows solidarity with the people. It shows the people of England actually care about what's going on down here."
His wife Lesley Seaton said it was "pretty amazing to see a royal" despite saying she thought he was not as good looking as his reputation suggested.
"People talk him up so much, they talk about handsome Wills and that sort of thing, and I guess because I'm not in his age group, he looked like a boy really," Ms Seaton said.
However, it was still great that he had visited, she said.
"It's recognition that the world has noticed...and maybe him coming here gives people a bright spot."
For Margery Stone, the prince's visit was the first time she had seen a royal since his grandmother Queen Elizabeth toured in 1953.
"When the Queen visited in 1953, I presented her with a bouquet," Ms Stone said.
"I think it's nice, I think it's lovely," she said about the visit.
Prince William was shown through the operations centre where rapid response teams, the Earthquake Commission and Christchurch City Council have been working since the February 22 disaster, which has an expected death toll of 180.
He then visited the welfare centre, talking about systems that have been put in place since the quake.
He seemed genuinely interested in their work and how hard they had been working, a pool reporter said.
He was careful to shake hands and say hello to as many people as possible.
The prince also met members of the air force, asking what role they played in the quake relief, then he spent a short time at Cathedral Square speaking to Dean Peter Beck and a search and rescue official about the damage.
He seemed especially interested in how students and their education had fared since the quake.
Prince William is to head to Greymouth later today to visit families of the 29 men killed in the Pike River coal mine explosion on the West Coast.
He will attend a memorial service for victims of the Christchurch earthquake in the city tomorrow.
He is due to leave Wellington on Saturday for Australia, where he will tour some of recently heavily flood-damaged areas.
- NZPA