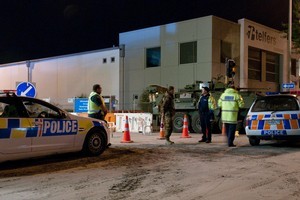 The excuses were wildly different, but the results were very much the same: any offending involving Christchurch's earthquake-damaged buildings or cordons will bring instant jail time.
Christchurch District Court Judge Brian Callaghan made that clear, three weeks on from the February 22 shake that damaged so much of the city.
He saw a procession of people picked up in suspicious or dangerous circumstances and brought before a court sitting today at Rangiora Court House, where Christchurch cases are being heard while the city's own court house remains inside the cordon.
A 30-year-old Woolston woman said it was just drunken fooling around to hide from her partner when she was found in a broken down building in Ferry Road.
Her 25-year-old partner, a painter, saw her run in there and said he went in to find her.
Judge Callaghan said it was a fenced off building that had been red stickered because it was structurally dangerous.
It was serious offending in trying times, putting themselves at risk as well as those who had to retrieve them.
The couple have not yet pleaded to the charge of being in an enclosed yard, but they are in custody for a week. The woman sobbed in the dock when she heard she would not get bail.
A 60-year-old New Brighton man said he thought he was going to a friend's house to recruit him to play in a band but he was charged with being found in a yard.
Police said the man had been seen looking into abandoned properties and hid in the bushes when neighbours saw him.
The judge did not accept his explanation and also remanded that man in custody for a week, without plea.
A 33-year-old concrete worker, Mark Daniel Tansey, said he went into a red-stickered property for a toilet stop while walking home, having left his motorcycle at the pub.
He admitted being in the yard of a property that was structurally unsound, and which had items of property that could have been stolen.
Judge Callaghan gave him 21 days' jail for offending in the current state of emergency.
A 24-year-old Northcote cook who said he inadvertently drove past the cordon and then lost control of the car when a passenger pulled on the hand brake, was charged with disqualified driving and breaching the emergency cordon.
He has not pleaded, but Judge Callaghan said it was a highly visible cordon and an emergency situation. The man is in custody on remand for two weeks.
- NZPA