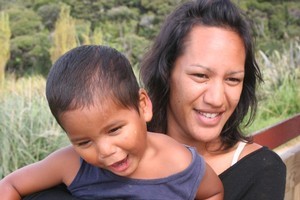 A Northland mother of 4-year-old twins is on a quest to find out more about one of the world's rarest conditions, which has stricken one of her sons.
Matauri Bay resident Regina Rapata struggled through years of medical tests, hospital visits, operations and confusion about her son Te Kaha's development.
Last year, a geneticist told Ms Rapata that a discovery had been made about Te Kaha's condition.
Genetic detection technology had enabled a laboratory to pinpoint duplication of the MECP2 gene, a condition called MECP2 duplication syndrome.
"Life was all about hospital in the first years of his life. We were in and out of hospital the whole time."
Those were often emergency visits, on some occasions airlifts. The only conclusion medical professionals came to was that Te Kaha's development was delayed, but they could not identify his condition.
Ms Rapata said she knew something was different about Te Kaha in comparison to his twin, Mana.
"I thought it was because he was the smaller twin, but then realised it was more than that.
"I started to see he was developmentally delayed in contrast to his brother. He wasn't sitting up like Mana was, and he didn't follow me with his eyes."
The condition, identified in 2005, is one of the rarest in the world, with fewer than 50 known cases.
Te Kaha is New Zealand's first case of the syndrome.
The twins were 3 years old when Ms Rapata received the diagnosis, and she said the realisation of its severity required some adjustment.
"I went through a grieving process because the condition is passed through a female carrier."
She said her son had been lucky to live through his first few years.
"The first few years of life are the most critical. Many children catch infections, pneumonia or epilepsy. We nearly lost him many times; his body was weak."
Since the diagnosis, Ms Rapata has dedicated her time to understanding the condition. The enormity of it is hard for some people to come to grips with.
"Most people don't see that there's much wrong with Te Kaha, but many people with this syndrome die by the age of 25."
Fifty per cent of sufferers do not live longer because of complications or recurrent infection and at times neurological deterioration.
At this stage, Te Kaha seems an active, happy, strong and vocal 3-year-old. But he is intellectually disabled, has limited speech, wears two hearing aids and is sight-impaired.
Many people with the syndrome deteriorate in mobility until they are placed in a wheelchair - one-third of affected males are unable to walk independently.
Te Kaha is now treated by paediatricians at Whangarei and Starship Hospitals and does not take medication. Ms Rapata said her best support came from networks she has built outside New Zealand.
Because of the scarcity of information on the syndrome, Ms Rapata took her search online and was able to learn about it from families overseas.
Ms Rapata is trying to raise money to attend a conference on the syndrome in Texas to gain further understanding and meet the people shehas connected with online.
While there, Te Kaha will take part in medical research on the condition.
DUPLICATION
* MECP2 duplication syndrome is a genetic disorder.
* Fewer than 50 cases are known in the world.
* Te Kaha is New Zealand's first case.
* Many sufferers are intellectually disabled.
* Half die before they reach 25 because of recurrent infections and neurological deterioration.
A fundraising event will be held at Homestead in Kerikeri on April 9, with tickets costing $50. To further support Ms Rapata's efforts, contact regina87@windowslive.com.
- APN