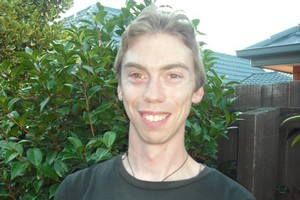 Two police officers have been accused of beating a young autistic man who became "the face of looting".
Cornelius Arie Smith-Voorkamp, 25, was arrested for stealing two light bulbs and an antique light fitting from a quake-damaged home in Christchurch.
But Mr Smith-Voorkamp has a mental disability that compels him to take light fixtures.
On the night of his arrest, he was beaten by two officers and taunted by New Zealand Army personnel, his lawyer Simon Buckingham said.
A New Zealand police spokesman last night said an investigation was being made. He said two New Zealand officers were involved in the arrest.
Mr Smith-Voorkamp was left with a black eye which was still bruised and swollen more than a week later, Mr Buckingham told the Herald.
He said his client, who has Asperger's syndrome, and another man arrested for looting were beaten up by the officers at the scene of the crime.
"There was also a bit of an issue with the army poking their head in and taking the mick a little bit out of the looter, but that was just verbal," he said.
"What I want to say to them is do they enjoy beating up autistic people or people with clear disabilities?"
Mr Buckingham, who also has autism, said there is no way his client would have prompted police to use force and would have complied with their orders.
"He would do whatever he's told basically, because of his autism. He is compliant, he is co-operative.
"If they would have said, 'stand still' he would have stood still. If they would have said, 'put your hands above your head' he would have put his hands above his head."
He said Mr Smith-Voorkamp wanted to reiterate that the two police officers were "two bad apples".
Yesterday, a Rangiora Court House judge released Mr Smith-Voorkamp on bail after police reviewed the case and said they were not opposed to it.
At his first appearance on February 26, Christchurch District Court Judge Michael Crosbie remanded him in custody - one of a series of remands in the days after the earthquake that sent a strong message to looters and other law-breakers that they could expect immediate jail time.
Mr Smith-Voorkamp was "extremely remorseful" for what he did but at the time he did not understand what he was doing was against the law, Mr Buckingham said.
"He had no intention of committing a crime, but for years he had been going around abandoned buildings, asking permission to go in and going and getting the fittings because he has a real fixation with being a sparkie."
Shannen Davis said she was disgusted by the brutality the police used on her foster brother, but is relieved he is out of jail.
He was unsettled after his behind bars.
She said the police who arrested him should have realised he was not a hardened criminal and used some discretion.
His lawyer said Mr Smith-Voorkamp originally believed he had been arrested by Australian officers.
But a Christchurch police spokesman said he was arrested by two New Zealand officers.
- additional reporting NZPA