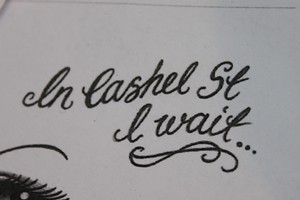 The February 22 earthquake has left a mark on everyone in Christchurch - and for many, quite literally.
Steve Johnson's City of Ink in Riccarton has seen a flood of clients inquiring about tattoos to mark the tragedy, many of whom lost loved ones in the disaster.
Designs include broken hearts, the Christchurch Cathedral, roses, lines such as "Never forget Chch", "In Cashel St I wait", "Four Aves" and "Kia Kaha", and the date, time and magnitude of the deadly quake. All, of course, in red and black.
City of Ink tattooist Penni Grigg said a lot of those getting ink were rescue workers, including many from overseas.
"We had more of the rescuers who come from overseas come in last week," she said.
"Until Sunday, it was mainly people working coming in. Since the weekend we've had more locals."
Fellow tattoist Michelle Ross said on Sunday, 11 people came in for February 22 tattoos.
"We had a whole family come in to get tattoos," she said.
All the proceeds from choosing a commemorative design goes to the Red Cross, Ms Ross said.
Meanwhile, tattoo studios around the country have been participating in fundraising events for the Christchurch tattoo community.
Matti McEachen, a tattooist from Southern Ink, died when the Colombo St studio collapsed in the quake.
His colleague Bonnie Singh managed to crawl to safety, her back broken in six places.
Several other Christchurch tattoo studios have been damaged or had equipment destroyed in the quake, including Black Rose Tattoo.
On Sunday, 17 studios held Inked for Christchurch, a fundraising event where tattooists worked for free and did tattoos for as little as a donation of $60 - all proceeds going to a fund set up for Christchurch tattoo artists who were hit hard by the quake.
According to the Inked for Christchurch website, more than $35,000 has so far been raised.
Fundraising will continue until 18 March and will go towards Matti McEachen's funeral as well as helping tattoo artists whose studios were destroyed or who lost equipment in the devastating quake.
- with NZ Herald staff