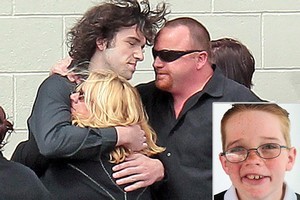 Hundreds of mourners gathered to farewell Jayden Andrews-Howland, who died a day before his 15th birthday, at the Harewood Crematorium in Christchurch today.
Jayden, of Aranui, was seen boarding the No 3 bus into the Christchurch CBD shortly before the magnitude 6.3 quake hit last Tuesday, having been let out of school early due to a teacher-only afternoon.
There have since been images of the No 3 crushed by bricks and other fallen debris.
At the service today, Jayden's mother Helen Andrews and father John Howland hugged and kissed their son's coffin while Neil Young's Heart of Gold played.
Jayden's family believe he had gone into town to look for his birthday present when he was killed.
His grandmother, Janet Andrews, choked back tears as she spoke of Jayden.
"He had his bike stolen a few weeks ago so he often just went into town on the bus before going home.
"He would have been looking for something to use his birthday money on."
Mrs Andrews said Jayden was an only child and his mother was distraught.
"You can imagine his mother is just cut up about it. You just don't understand it, but he really was her life."
She described her grandson as a "good kid" who loved riding his bike.
- NZ Herald staff