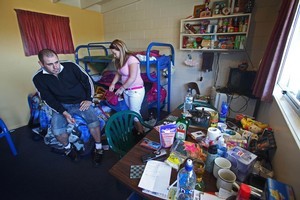 Mike Brown was meant to be working on the ninth floor of the Copthorne Hotel at the time of the earthquake but had decided to take a long lunch.
The 28-year-old was so traumatised by what he saw that he and his partner, Leonie Cook, left Christchurch the next day and fled to Nelson.
"He saw it sway about 20 metres from side to side ... He saw it all first-hand, so he's having a rough time ... We just wanted to get out," said Miss Cook, 18.
Mr Brown is now receiving counselling in Nelson and Miss Cook said they would never live in Christchurch again.
"We're trying to stay away from the aftershocks and the ghost town. It's just demolished and it's not nice scenery to be around.
"I don't think Christchurch will ever be the same for me."
Miss Cook lived in the city centre and said her home was completely wrecked by the earthquake.
The couple are now staying at the Tahuna Beach Holiday Park.
"I don't have a home to go back to, so it's been quite stressful. I just packed what I needed and left."
She said the people who fled Christchurch had bonded because of their shared experience.
"One guy here was in the Press building which collapsed, everyone here's really nice and we're all talking about it."
Tahuna Beach Holiday Park worker Valda Holland got a call from a family desperate to leave Christchurch 25 minutes after the first shock on Tuesday last week. "They didn't even go home to pack. They picked up their kids from school and came straight here ... and they're still here now," Mrs Holland said.
Nelson had been inundated with people seeking refuge from the aftershocks and destruction, she said.
Mrs Holland said 200 people from Christchurch were staying at the site and the 87 accommodation units were full. The holiday park is offering free camping for a week for Christchurch refugees.
She said Nelson locals had been donating vegetables, fruit, meat, home baking and money to the evacuees - many of whom fled with nothing.