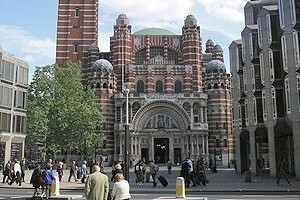 A service is underway in London's Westminster Cathedral to pay tribute to those who have lost their lives in last week's devastating Christchurch earthquake.
The prayer vigil began at 7pm (7am NZT) and aimed to bring together the London-based New Zealand community in the wake of the February 22 quake.
Hayley Westenra was to sing the national anthem, and a tribute from Prime Minister John Key would be read by New Zealand High Commissioner Derek Leask at the service.
Around 1500 New Zealanders were expected to attend the service, but a message on Facebook said they had had a "phenomenal response" to the event and had to set up a PA system outside with seating for a further 1500 people.
Messages from those attending the service in London were posted on Twitter - "Remembering Christchurch tonight at Westminster Cathedral. Turnout is unreal. And humbling".
One tweeter said they had not made it inside the cathedral, but it was a "good thing they've got speakers outside".
- NZPA