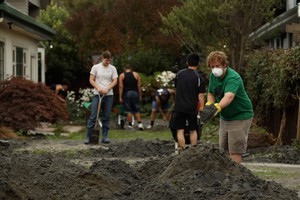 Wealthy parents receiving money from Working for Families look set to lose the funding as the Government looks to find financial relief for the Christchurch earthquake.
Finance Minister Bill English yesterday said the Government was looking at what big spending projects could wait as it faced high costs from the quake and a slow economy.
Prime Minister John Key said today that Mr English was looking at all areas of government expenditure, and that cuts to the Working for Families scheme were being considered.
"Both Working for Families and student loans are arguably broad and generous schemes and there may be the opportunity to make alterations to the generosity of those schemes, particularly in families where it reaches into very high income levels and where those people have enjoyed reasonably good tax cuts," Mr Key said.
"I don't think there will be significant changes, but because the schemes are so large and, arguably, expensive in nature, quite small changes can deliver quite reasonable savings."
Mr Key said it was not his expectation that the Government would bring back interest for student loans, or that changes would be made to target the interest-free loans at particular income brackets.
"Major wholesale changes to the scheme are not something the Government's considering."
Mr Key said the changes were not intended to fund the rebuild of Christchurch.
"If you look at the $20 billion anticipated price tag, we know that we've provisioned around about $15 billion for our insurance, EQC and the likes.
"There are a number of factors happening here, but no one's arguing we need to fund all $20 billion through either cuts and savings or some additional levy."
Child Poverty Action Group spokeswoman Susan St John said increasing taxes on incomes higher than $70,000 would be a better way to raise funds.
Such taxes would also impact on the higher-income families who qualify for Working for Families, and would spread the cost to families that could bear it without attacking the scheme, Ms St John said.
Green Party co-leader Russel Norman said a time-limited earthquake levy, rather than spending and benefits cuts, was the best option.
"This means sharing the costs across those who can most afford to pay. A levy is the fairest way to pay for the earthquake and we believe serious investigation of this option should be undertaken."
- NZPA