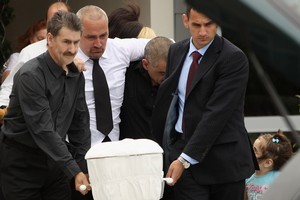 The grief-stricken family of eight-month-old quake victim Jayden Harris farewelled him in a moving ceremony in Christchurch today.
The little boy was sleeping in his cot when the quake hit last Tuesday, sending a 21-inch television flying on top of him.
His mother Tracey Harris made a desperate bid to get Jayden to hospital but tragically, his injuries were too severe.
Miss Harris was flanked by family as she bid farewell to her baby boy, who lay in a white coffin filled with toys including a tiny blue teddy bear.
Mourners, including Miss Harris' mother, described Jayden as a bright and happy little boy with an infectious laugh and big blue eyes.
Celebrant Jan Morrison said: "Jayden was a sweet, happy little boy who smiled, gurgled and loved being in the centre of things."
"You were our precious gift of joy... a spark in the darkness... you warmed our hearts," she said.
"Your beautiful spirit is with us forever, Jayden. May the stars light your way."
A slideshow played, showing pictures of Jayden's short life.
Miss Harris and Jayden's father Grant Smith sobbed during the service.
White and blue balloons were released out in the dusty Christchurch sky as the little boy was lowered into the hearse.
Yesterday, the Jayden Harris Charitable Trust was set up by family to support babies that had suffered head injuries and their families.
The trust was set up after housewife Clare Smith, of Lyttelton, read about Jayden's story in the newspaper.
"At the end of the story it said his mother, Tracey, wanted to create a trust to support children with head injuries ... " she said.
"It really touched my heart and it made me cry."
Mrs Smith had donations from friends for a different project and after reading Jayden's story felt some of that should help his mother's dream come true.
People can donate at any Westpac branch to the Rainey Collins Trust, 03 0566 0082260 02, reference: Jayden.
- with NZ Herald staff