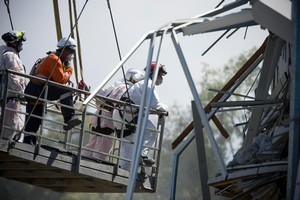 A time frame's been put on the expected length of rescue operations at some of Christchurch's worst-affected buildings.
Search and rescue teams think it will take another four days to comb through the rubble of the Pyne Gould building.
There are known casualties in the building, but they're hard to access.
A team from the United States is working on the Forysth Barr building.
It says it's a major technical job and will take around three days.
The stairwell collapse means workers are using lines to descend down the building.
Kiwi teams have made it up to the fifth floor of the Grand Chancellor Hotel but still have fears about the integrity of the building.
Steel support will be completed at the cathedral this morning, and then the New Zealand team will enter.
- NEWSTALK ZB