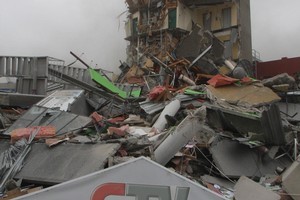 The owners of the Canterbury Television (CTV) building in Christchurch are welcoming a government inquiry into why the building collapsed in last Tuesday's 6.3 magnitude earthquake.
It is thought many bodies lie buried in the ruins of the building, along with many more in the Pyne Gould Corporation building.
Police have just revised the official death toll to 155.
Yesterday Prime Minister John Key said an inquiry would be held into the Christchurch earthquake which would consider safety issues around collapsed buildings.
"There has to be an inquiry, we have to provide answers about why so many lost their lives," he said.
Today a spokesman for the two South Island families who owned the 20-year old six-storey CTV building said the families were "absolutely devastated and distraught" over the catastrophic collapse of the building in which a large number of people lost their lives.
"Because of the impending government inquiry, the owners are unable to make any detailed statement about the tragedy," said Ken Jones, of the Christchurch law firm White Fox Jones.
"They offer their most sincere condolences to the families of those who lost their loved ones and to those who were injured.
"They wish to assure everybody they will cooperate to the fullest with the inquiry into the collapse of this modern building.
"This includes the provision of all engineers' and other reports commissioned and acted on since the 4 September 2010 earthquake," Mr Jones said.
The building had been managed on behalf of the owners since they purchased it in 1991, soon after its construction.
Mr Jones said the building was green-stickered by the Christchurch City Council following the September quake.
That meant an inspection had been carried out by the council and the building deemed secure for occupation.
The property manager had then commissioned a detailed structural engineers' report that raised no issues regarding the structural integrity of the building.
"The report recommended internal and external work be undertaken to repair superficial damage to the building fabric sustained in the earthquake and its immediate aftershocks," Mr Jones said.
"This work was underway at the time of the building's collapse."
Mr Jones said last Tuesday's earthquake appeared to have generated unusual forces that relatively modern buildings built to recent seismic standards were not able to withstand.
"An inquiry is therefore very important to establish why the building collapsed, so that something like this cannot happen again," said Mr Jones.
Mr Key said that New Zealanders had to learn lessons from the earthquake.
"Some things are just beyond our control but we owe it to people to give them answers."
Mr Key confirmed the inquiry would look at the safety certificates issued after the first earthquake for buildings that collapsed in the second quake.
He said he did not yet know what form the inquiry would take and was waiting for advice on that.
- NZPA