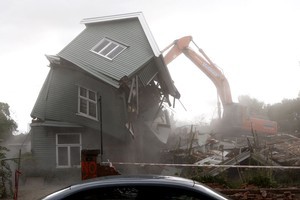 National architectural practice Warren and Mahoney is starting to look at how quake-ravaged Christchurch buildings can rise out of the rubble.
Warren and Mahoney have put together a group of urban planning, design and property experts to begin considering the best way forward for Christchurch buildings, director Peter Marshall said.
The group, which decided to form of their own accord, will start to develop a set of key design principles and long term development scenarios which they can then take to Christchurch City Council.
It is made up of Warren and Mahoney, environmental planners and urban designers Boffa Miskell, structural and civil engineers Holmes Consulting Group, commercial leasing and sales service Colliers International and tenant advisory services Wareham Cameron.
The group planned to meet next week to brainstorm ideas.
"Civic leaders and government officials are rightly focused on the immediate rescue and recovery mission," Boffa Miskell managing director Don Miskell said.
"Forming the group and turning our minds to seeking integrated solutions by combining visionary thinking with a depth and breadth of development experience is one way that the interdisciplinary members thought we could contribute to the rebuilding of Christchurch."
At this stage, in its very preliminary phase, the group had let Christchurch City Council know about their plans and assumed the council would see merits in the group, Mr Marshall said.
- NZPA