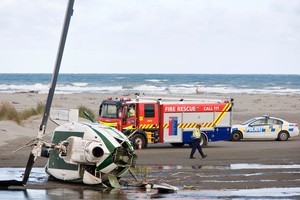 A man dragged a pilot from his seat in a wrecked helicopter and then waited for emergency services to arrive after the aircraft crashed northwest of Levin this morning.
The man ran hundreds of metres to pull the pilot from the wreckage and put him into the back of his ute until emergency services arrived.
He found the pilot covered with blood on his face and neck and described him as being "very shaken".
The Civil Aviation Authority (CAA) is investigating the cause of the crash which left the pilot with head injuries.
The 60-year-old man was flown to Palmerston North Hospital with serious injuries after the helicopter, an ex-military Iroquois, came down on Hokio Beach, 10km northwest of Levin, police central communications Inspector Ian Harris said.
His condition this afternoon was serious but stable.
Emergency services were contacted about 9am.
The pilot was treated by St John Ambulance staff from Palmerston North. He was the only person in the helicopter, which was flying from Blenheim to Rotorua.
CAA investigators arrived at the scene this afternoon and police would help them investigate the cause of the crash, a police spokesman said.
- NZPA