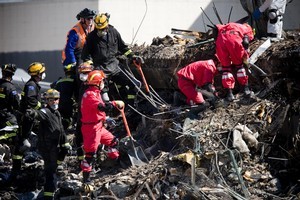 Questions have been raised whether the CTV building was weakened by demolition work the day before the earthquake.
Contractors clearing a site next door drilled holes in the back wall of CTV, along the ground floor and second storey of the building.
The holes were for wooden battens attached to the outside wall as support for the neighbouring demolition, said CTV chairman Nick Smith.
"I said to one of the construction guys, 'this doesn't look too smart, the wall looks pretty flimsy to me'.
"And he said, 'nah, nah we know what we're doing'.
"I said fair enough because I'm not a construction guy."
Mr Smith, also a director of Allied Press which owns the Otago Daily Times, said questions needed to be asked.
"Whether the drilling contributed anything towards [the collapse], God only knows," said Mr Smith.
"No doubt, if it did, it will come up in the future. Someone will have to investigate the cause of the collapse."
Fifteen CTV staff - including managing director Murray Wood - are believed to be among an estimated 122 people missing in the Madras St building. That includes more than 60 students and staff from language school King's Education.
Attempts to contact the contractors yesterday were unsuccessful.
Urban search and rescue teams from New Zealand, China and Japan were working on the CTV site yesterday, "de-layering" the building, removing debris piece by piece.