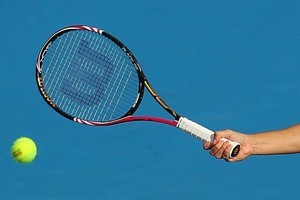 Effort are under way to help hundreds of international tennis players get home from Christchurch following last week's deadly earthquake.
More than 500 competitors from 30 different countries were taking part in the ITF World Seniors Championships in Christchurch when the quake hit the 6.3 magnitude quake hit on Tuesday.
Canterbury Tennis chief executive David Blackwell was in the Wilding Park board room when the ground started to shake, and watched as officials from London scrambled under furniture for shelter.
"A lot of people were frightened...we tried to keep updating people on the situation throughout the afternoon but we couldn't really tell them much," Mr Blackwell told NZPA today.
Eventually the competitors were taken to a Red Cross centre for the night.
"One couple from Estonia were too afraid and refused to leave Wilding Park," Mr Blackwell said.
"They stayed in their car in the carpark and we ended up coming back to get them in the morning.
"They didn't speak English so you can imagine it must have been even worse for them."
Mr Blackwell said everyone involved in the tournament was believed to be safe, and that efforts were now focused on helping the visitors out of the city and country.
"Many of them had their things and passports at inner-city hotels, so it's been very difficult," he said.
"About 100 were taken out in the last two days and we've got about 50 to take out tomorrow."
Mr Blackwell said once the overseas players were taken care of, attention would turn to the devastated courts, with a board meeting planned for this week.
The courts at Wilding Park were damaged in the initial September 4 quake.
However, this week's quake was likely to drive the cost of repairs into the millions.
- NZPA