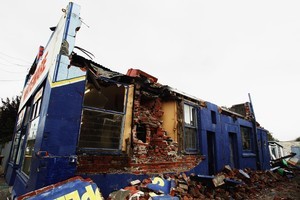 That concludes our live updates for today. Thanks for following and check back tomorrow for the latest.
8.33pm: A Christchurch city councillor living inside the cordon says police and Civil Defence could make life a lot easier for residents like him.
Yani Johanson has stayed inside the cordon following Tuesday's magnitude 6.3 quake after his building was given the green light by inspectors. About a quarter of those in his building have also stayed on.
"I'm very disappointed by the lack of communication between the residents and the authorities. After September's quake I said we needed a leaflet drop so people know what's going on. I've offered to do that myself but I can't print them without help so that hasn't happened," Mr Johanson told NZPA.
Mr Johanson questioned why the curfew began at 6.30pm when it didn't get dark until three hours after that. He also said he had been trying to get authorities to put portaloos inside the cordon but that hadn't happened yet.
"We don't have backyards which we can use so we have few options with our waste and I haven't seen any portaloos around. It is especially hard since we can't leave the cordon after 6.30pm."
7.45pm: Police work in the suburbs is currently focused on eastern areas, particularly New Brighton, where the earthquake caused considerable damage.
NZ police officers are working alongside members of the Australian police contingent, Defence and Fire personnel and Maori Wardens. They are patrolling the streets, checking on people and providing advice and support, says Canterbury District Commander, Superintendent Dave Cliff.
Despite concerns and anger around reports of looting, only four burglaries were reported last night.
7.30pm: The man leading the police response to the Christchurch earthquake has received a message of solidarity from his Bay of Plenty colleagues.
Superintendent Dave Cliff was yesterday presented with a tewhatewha -- a traditional Maori weapon which signifies authority, strategy and mobilisation.
Bay of Plenty District Commander Superintendent Glenn Dunbier had asked master carvers in Rotorua to select a "gift of significance" for Mr Cliff, who said it had made him proud.
7.24pm: Territorial soldiers from across the North Island have arrived in Christchurch today to contribute their muscle to the clean up process already underway in the suburbs.
The 80 soldiers from the four North Island Territorial units will swap their trenching tools for larger shovels and wheelbarrows as they work with residents to clear sediment from streets and properties.
They will be adding to the 164 South Island territorial soldiers already at Burnham who have changed their civilian clothes for a uniform and are assisting with the CBD cordon and security
7.00pm: It's likely Earthquake Commission levies for all New Zealanders will rise.
Prime Minister John Key says an increase is needed so the fund can be built up faster.
Prior to the September earthquake, the Earthquake Commission had $6.4 billion in its fund.
John Key says if the levy isn't increased, it will take until 2025 to get it back to $6b.
He says people can expect the levy to double or triple, from around $60 per household now, to between $120 and $180.
6.05pm: The badly-damaged Christchurch Cathedral has been blessed to lift any tapu where victims of the quake still lie.
Rescue workers are continuing to work on stabilising the church, so bodies can be removed.
5.59pm:
Superintendent Dave Cliff said two Australian officers today arrested a man attempting to access a cordoned area by impersonating an official.
5.56pm:Authorities in Nelson are working hard to accommodate fleeing Christchurch residents.
Nelson Tasman Civil Defence staff had been working all weekend to gather information and provide assistance to those arriving, Roger Ball, of Nelson Tasman Emergency Management, said.
"It is difficult to gauge the number of arrivals, however, anecdotal estimates have people arriving from Christchurch over the weekend numbering many hundreds," Mr Ball said.
5.44pm: Police Superintendent Dave Cliff has confirmed the death toll in Christchurch has increased to 147. He said there are still more than 200 people missing.
5.19pm:
Most of Christchurch has had power restored but lines company Orion says 30,000 customers remain without it.
Most of those yet to be connected are in the eastern suburbs or the central business district.
Orion, in its latest report late this afternoon, said the company hoped to have power restored to 84 percent of customers by the end of the day.
Earlier today, chief executive officer Roger Sutton announced what he called an "ambitious target" of 95 percent of customers to be reconnected within the next seven days - excluding customers who could not be connected because of property damage, and also the parts of the CBD still off limits.
5.10pm: Christchurch health services are still dealing with steady numbers of patients after Tuesday's devastating earthquake and are advising people to follow basic hygiene precautions to stop the spread of illness.
In Canterbury District Health Board's (CDHB) latest update people were advised to boil water and follow basic hygiene measures amid concerns there could be outbreaks of gastroenteritis and other illnesses.
Christchurch Hospital was coping with the increased demand and as of this afternoon there were 309 patients in the hospital, including 15 in the intensive care unit.
Orthopaedic services, neonatal intensive care and services all remained busy at the hospital.
4.55pm:
New Zealand should be more aggressive in making buildings able to withstand earthquakes and can learn from Christchurch's devastating quake,
a leading structural engineer says
.
4.48pm:
The website
Quake Escape
has been set up to help victims of the Christchurch earthquake find temporary accommodation. To date there are 16,755 beds available.
4.38pm:
Governor-General Anand Satyanand was in Christchurch today getting a first-hand look at the relief effort following this week's deadly quake.
"This is a time for finding out the exact extent of what has happened, and it's admirable to see how people are helping out," Sir Anand said.
"It's really heartening to see the response and the professionalism that is being applied in the interests of those so gravely affected by the earthquake."
Sir Anand said Government House received messages of support almost immediately following the quake.
"The Queen, Prince Charles, other members of the royal family and a great many heads of states from many countries far and near." - NZPA
4.32pm:
GeoNet
reports that another aftershock struck at 4.21pm measuring 3.7, 10 km south-east of Christchurch.
4.15pm:
A number of sporting contests in the past five days have performed a minute silence in mark of respect for those that died in the Christchurch earthquake.
View gallery
3.57pm: Housing New Zealand is to suspend the rent for about 2500 of its tenants living in those areas of Christchurch most affected by the Christchurch earthquake, Housing Minister Phil Heatley announced today.
3.55pm:
Cyclist Sam Bewley is
auctioning off a 2008 NZ Olympic cycling jersey
, signed by the bronze medal winning Team Pursuit team.
Bewley, Hayden Roulston, Jesse Sergent, Westley Gough, Marc Ryan and Pete Latham have all signed the sshirt and it is being auction on TradeMe.
The auction closes on Saturday and the highest bid so far is 2,010. All proceeds will go to Red Cross for the Christchurch Earthquake appeal.
3.48pm:
Several families are lucky to be alive after boulders bounced down a mountain and tore through their houses.
Watch video

3.31pm:
The Dean of Christchurch Cathedral, Peter Beck, says he had a good cry today.
He says it was his first cry since the city was rocked by Tuesday's devastating quake and the cry was "a good thing for me."
"We're all going through it and we're all trying to do what we need to do and that's exactly what we should be doing."
The iconic Christchurch Cathedral, which many consider the heart of the city, was badly damaged in the earthquake and there are bodies under the rubble that are still to be recovered.
Rescue workers have been working on stabilising the church, so those bodies can be removed.
Peter Beck says this will probably happen sometime today. (Newstalk ZB)
3.13pm:
Rock falls in Lyttelton are so dangerous that emergency services won't try to wash the cliff face with monsoon buckets, Newstalk ZB reports.
80 people have been evacuated from Brenchley Road overnight, following fears from geotechnical engineers.
Chief Fire Officer Mark Buckley says the residents will be out of their homes indefinitely, because the risk is too great.
He says extra expertise is needed to identify what to do next.
3.06pm: Education Minister Anne Tolley says schools and ECE services in Christchurch City remain closed until further notice, as the extent of damage to school property becomes clearer following the devastating earthquake.
3.03pm: The army is boarding up buildings in Lyttelton to prevent looting, says Newstalk ZB.
2.57pm:
Update on latest road closures
in Christchurch.
2.27pm:
GeoNet
reports that another aftershock struck at 2.11pm measuring 3, 10 km south-west of Christchurch.
2.17pm:
At least 60 staff and students of King's Education Institute are
believed to still be missing
in the rubble of CTV building as the search and rescue operation continues in Christchurch.
2.04pm:
There aren't enough wheelbarrows to go around to help with the clean up in Christchurch.
Sam Johnson, who founded the many thousand-strong Student Volunteer Army, said there were plenty of people to help clean up eastern suburbs hit hard by liquefaction, but there wasn't enough equipment to cart the debris around.
"We're desperately short of wheelbarrows - we're having a nationwide wheelbarrow appeal for commercial-grade wheelbarrows to be donated," he told NZPA.
Aucklanders can donate wheelbarrows by dropping them off at New World stores around the city.
1.40pm: 30,000 tonnes of silt has so far been removed in Christchurch - about the same amount as the September quake with five times as much still on the ground, says Newstalk ZB.

1.28pm:
The wife of the earthquake survivor recovering after having both his legs amputated to free him has
publicly thanked
everyone involved in saving his life.
1.15pm:
GeoNet
reports that another aftershock struck at 1.03pm measuring 3.5, 10km east of Christchurch.
12.57pm:
The organisers of the Rangiora Earthquake Express - a helicopter delivery service from Rangiora to the eastern suburbs of Christchurch - are calling for food parcels, disposable nappies and other essential non perishable to be delivered to the Rangiora Racecourse off Oxford Road.
Army Iroquis are now delivering the hot food and non-perishables to the worst hit areas.
For more details of what and where to donate please go to http://www.facebook.com/#!/pages/The-Rangiora-Earthquake-Express/153841938005848
12.50pm:
More than 500 competitors
from 30 different countries were taking part in the ITF World Seniors Championships in Christchurch when the 6.3 magnitude quake hit on Tuesday.
12.43pm:
Water has now been restored 65 percent of building in quake-ravaged Christchurch but 55,000 homes are still without water, says Christchurch City Council.
The council said that water was being trucked into the areas without supply.
12.35pm:
All proceeds from mobile apps purchased from
http://appappeal.co.nz/
until March 5 will go towards the New Zealand Red Cross Earthquake Appeal.
12.21pm:
More than two million dollars in emergency payments have now been made to Cantabrians affected by the earthquake, says Social Development Minister Paula Bennett.
So far 13,443 Civil Defence payments totalling $2,212,825 have been made.
Five Work and Income centres - in Ashburton, Hornby, Rangiora, Kaiapoi and Riccarton - are open till 4pm today to support anyone who needs emergency financial support.
12.17pm:
More than 33,000 calls have been made from 260 free Telecom payphones across Christchurch. Free WiFi spots are also available at Telecom Riccarton Mall, Cafe Zero (Cashmere Rd), and the Westpac Centre (Addington).
Residents are recommended to change their voicemail message to let callers know the time, date and your location and, if possible, alternate contact details to provide some reassurance should mobile phone batteries go flat given the difficulties with power supply.
Telecom customers with friends or family with a prepaid Telecom mobile can call 0800 32 32 32 and top up their prepaid credit on their behalf.

12.03pm: GeoNet reports that an aftershock struck at 11.44am, measuring 3.2 10km south-east of Christchurch.
11.37am:
A map of the location of facilities available across the city, including portoloos, water supplies, supermarkets and road closures can be seen here:
http://eqviewer.co.nz/
.
11.26am:
Orion has restored power to 82 percent of their customers across the city and hoped to have 95 percent restored within the next week.
Around 36,000 customers are still without power, mainly in eastern suburbs and CBD.
Five generators have been connected to bring power to some 1150 customers in parts of New Brighton and Cashmere.
Those reconnected are asked to conserve electricity as the power network remains fragile.
People leaving their homes, or who do not have power reconnected yet, are asked to turn their power off at the mains, unplug all appliances and ensure the stove is turned off. This reduces the risk of fire when the power is restored.
11.22am:
Bob Parker told media that authorities are still treating the situation as though there are still survivors buried in the debris.
"I'm a great optimist. I will not stop hoping that we will find people alive in the damaged structures in the city until I am told there can't be more survivors."
11.16am:
Arrests have been made overnight for burglary, impersonating officials, theft, domestic assault and drunk driving.
Superintendent Dave Cliff said the judiciary are taking a "firm line" against offenders during the state of emergency.
11.10am: 160 Maori wardens are on their way to the city to work alongside police.
11.05am: Orion CEO, Roger Sutton, wants to restore power to 98% of homes within a week. CBD properties will remain without electricity due to the problems of working in the area.
10.54am:
Fire Service chief Paul Baxter says searching has begun in the surrounding buildings around the Hotel Grand Chancellor.
He confirmed that no more people were rescued overnight. Five more fires were started, some caused by people turning their power back on.
Mr Baxter said searches at the CTV building and the Pine Gould Corporation building are "progressing well" with an international team working through the rubble.
There was slow progress at the cathedral with some debris moved overnight, but falling masonry is a concern.
10.51am: Superintendent Dave Cliff said more than 200 people were still missing.
"It is important to understand some victims suffered horrendous injuries and identification is very difficult."
He hoped to release the name of at least one more victim today.
10.46am: Superintendent Dave Cliff confirmed that the death toll is now 146, but expected the number to rise.
He also said police are wearing a huia feather on their uniforms today to signify the death of a colleague.
10.43am:
Mayor Bob Parker is holding a press conference to update the media.
He said that although it is a Sunday the operation is "just as intense ... just as committed".
"Our thoughts are with the families of those that have been identified as deceased and those still missing.
"It's a day of everybody reaching out...we need to keep our spirits up".
10.35am:
There are reports that people have been sending hoax text messages claiming to be stuck under buildings.
St John received a text on Friday reading, "Help me, I'm alive. I am trapped inside the CTV building. Please come fast I can't breathe."
Police and Urban Search and Rescue teams were called, but they later found the cry for help to be a fraud.
10.33am
23 properties were evacuated in Christchurch overnight due to the danger of falling rocks, Newstalk ZB reports.
The homes affected were in Bridle Path Road, La Costa Lane, Maffeys Road and McCormacks Bay Road.
10.17am
Tertiary Education Minister Steven Joyce will meet in Christchurch today with representative from King's Education language school which has more than 60 students and staff missing as a result of Tuesday's devastating quake.
The school, based on the third floor of the collapsed Canterbury Television building in the CBD, said that nine staff and 52 students remained unaccounted for.
They included students from Japan, China, Philippines, Thailand, Korea and the Czech Republic.
10.14am
There were eight arrests made overnight in Christchurch with several people caught looting.
Arrests were also made for drink driving and domestic violence, Newstalk ZB reports.
Police commander Superintendent Russell Gibson says while there are hundreds of people helping, there are still criminal elements trying to take advantage of the situation.
10.11am Extra funeral directors have been flown in to Christchurch as the number of people killed by the earthquake rises. (Newstalk ZB)
10.09am Dr Hamish Campbell from GNS told Newstalk ZB this morning that Tuesday's earthquake broke records for the fastest 'land acceleration' ever recorded in New Zealand.
10.05am
This
map
shows the latest status of electricity in the Christchurch region, courtesy of Orion.
9.57am
The Student Volunteer Army is once again today hitting the streets helping Christchurch residents and is calling for even more volunteers to help out in the coming days.
Organiser Louie Brown said although it is a "youth-led organisation" all walks off life are involved.
Mr Brown said current volunteers will need time out, so more volunteers will be needed in coming days to fill in.
He said reports of people impersonating officials was "very saddening", and SVA workers now have green t-shirts to identify them, however not all volunteers have the shirts so he advises residents to use their discretion.
To register to volunteer or to ask for assistance go to http://www.sva.org.nz/ or text 02108236359.
For more information please see: http://www.facebook.com/#!/StudentVolunteerArmy
9.49am
Aftershocks have become less frequent since Tuesday's earthquake with only two occurring overnight GeoNet reports.
The last aftershock was at 7.55am and measured 3.2, within 5km of Lyttelton.
9.36am Lyttelton port is open to vessels bringing in emergency supplies.
9.17am
Half of all Lotto, Lotto Strike and Lotto Powerball sales for this coming Saturday's draw will be donated to Christchurch earthquake relief.
NZ Lotteries' Chief Executive Todd McLeay hopes that well over $5 million can be raised through this special draw. "Hopefully, we will raise a lot more than that."
Mr McLeay said while many people have suggested that NZ Lotteries donates the Powerball jackpot directly to earthquake relief, this was not possible.
"We cannot change the rules of the game for the many New Zealanders who have already purchased tickets for future draws, this would be unfair. In addition, the Lotto game is governed by a strict set of legal rules that set out how the prize pool is allocated and distributed."
9.02am Police warn that there is still a "very high" risk of falling glass and masonry in the CBD.
8.56am
The Governor-General Sir Anand Satyanand, and Lady Susan Satyanand, will visit Christchurch this afternoon to support those affected by the earthquake and those assisting in the search and rescue effort.
They will visit the Emergency Operations Centre at the Christchurch Art Gallery about 1.30pm, before inspecting parts of the city with Mayor Bob Parker and Minister of Conservation Kate Wilkinson.
They will meet some of the USAR teams and will conclude their visit with a call on the Australian Medical Assistance Team based at Cowles Stadium, about 4.15pm.
8.50am Liquefaction underneath the Grand Chancellor is so bad that concrete is going to need to be poured into the foundations before being reinforced with steel in order to stabilise the hotel.
8.14am
Up to 70,000 Canterbury students will not be at school tomorrow, says Education Minister Anne Tolley.
While the eight schools inside the cordons and others in the city are remaining closed, most in the Selwyn and Waimakariri districts will open.
7.48am
A 44-year-old man confessed to looting after a speaking to Australian police officers, who he described to local cops as "scary".
He then admitted looting a nearby bar. He allegedly stole two bottles of alcohol and a bottle of water. The man is in custody and facing charges.
Two people were also arrested for drink driving near the police cordons in the central city.
7.41am
Businessman Owen Glenn has donated $1 million to the earthquake recovery effort, and has urged other businesses to do the same.
"It's very difficult to find the right words at a time like this," said Glenn in a statement. "The people of Canterbury particularly but all New Zealanders are enduring so much right now. I feel very far away but rest assured my love, prayers and thoughts are with you all."
Mr Glenn says he was motivated to give because he is a New Zealander and he wanted to help in some small way.
7.36am
Mayor Bob Parker says 6500 homes have been checked off by search and rescue teams, of a total of 50,000 that need to be visited. He says the number of teams will be doubled on Monday.
There are still 55,000 without water and 75,000 don't have sewerage.
7.25am
Stabilisation work set to start on the precariously tilting Hotel Grand Chancellor - one of the city's tallest buildings.
The difficult work, to be carried out by a contractor, would allow search and rescue operations to start around the building.
7.20am Police said domestic violence surged by 50 percent after Tuesday's earthquake. Commander Dave Cliff told AFP that there has been a surge in family assaults, as some turn to alcohol to cope with stress and emotional fatigue.
7.10am
Kiwis in London will show their support for Christchurch this week with a special vigil at Westminster Cathedral.
Around 1500 New Zealanders are expected to attend the March 2 vigil a 7pm, London time.
7.01am
Civil Defence and Urban Search and Rescue teams evacuated residents from the quake-stricken Christchurch suburb of Mt Pleasant overnight.
Twenty-three properties in Bridle Path Road, La Costa Lane, Maffeys Road and McCormacks Bay Road were evacuated due to falling rocks.
6.40am
The death toll in Christchurch currently stands at 145 - but officials say that this number is highly likely to rise. There are known to be at least 200 people still missing in the stricken city.
If you want to know how you can help, check here, or for a handy reference of operational services and places to get help, check our What you need to know page.

- NZ HERALD STAFF