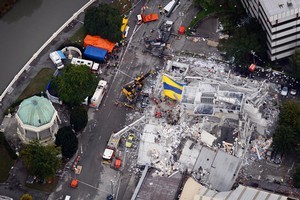 His legs were amputated in the dark with a fold-out knife and a hacksaw - but Brian Coker is smiling, just happy to be alive.
His family has spoken of his trauma - but also of his joy at surviving a quake that claimed the lives of so many others.
The 52-year-old was trapped inside the collapsed Pyne Gould Corporation building for several hours after the quake. A concrete slab was crushing his legs and he was bleeding heavily.
Three doctors worked in the dark using a fold-out knife and a hacksaw to amputate both of his legs above the knee.
Coker was anaesthetised with morphine and ketamine for the procedure, which took about 15 minutes.
In Waikato Hospital yesterday after undergoing further surgery, the father-of-two had wife Helen at his side.
His brother, Malcolm Coker, said the family were still coming to terms with what had happened. "It's the traumatic side of the thing. It's not easy to lose a limb at any stage," he said. "I'm just thankful he's alive."
But Brian had been talking to his wife and family and already "had a smile on his face", his brother said.
Ironically, Malcolm Coker was on duty as a St John ambulance operations manager the day of the quake. He drove past the site without knowing his brother was trapped inside.
"I find that quite tough, thinking I was at the site and I could have possibly been there to give more drugs and help the doctors. I wanted to help my brother."
Meanwhile, Kate Barron also had both her legs amputated after being pulled from the same PGC building.
An acquaintance, Trish Ramsay, told of her elation after Kate, a 24-year-old legal secretary, was rescued on Tuesday.
She posted on Twitter: "They found Kate, she sadly has just had legs amputated but she is alive and in arms of loved ones."