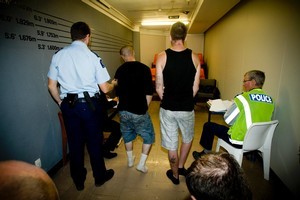 Another steady stream of accused offenders arrested in the wake of Tuesday's earthquake appeared before a makeshift Christchurch District in the bowels of the central police station today.
Regular court sittings were suspended after the 6.3 magnitude quake which destroyed many buildings in the CBD.
One man was found in commercial-industrial premises and police opposed bail on the burglary charge, The Christchurch Court News website reported.
Judge Michael Crosbie told him: "These are extraordinary times. You have shown you are capable of dishonesty offending at a time when we need people to behave.
"A small percentage are just letting the side down. This is not an environment for people to help themselves." He remanded him in custody to March 28.
Another man arrested for breaching a no-alcohol condition of his bail said he had gone drinking to get arrested because he could not get help for his mental health problem. Since his arrest he had seen a psychiatric nurse and been given medication. He further remanded on bail.
A Lyttelton man found in a house said he was trying to steal a toaster because his family only had stale bread to eat.
Duty solicitor Kerry Cook said the risk of further offending could be covered by strict bail conditions and the man had no previous convictions.
But Judge Crosbie said there was justification for a remand in custody under present conditions.
"I would have thought that if he has done something like this at this time, he is capable of doing anything, and capable of doing it again," he said, remanding the man to March 28.
Another man got bail after being arrested for trying to siphon petrol from a car so he could drive to a local chemist to collect his methadone prescription.
Judge Crosbie granted him bail, with a curfew at home but a two-hour window each morning to get his methadone.
He also granted bail to a man who was arrested in breach of a police safety order imposed after a domestic violence incident. The man said his partner had asked him back to help, because she had had an epileptic fit.
Other cases involved breaches of bail conditions, and three appearances before the Youth Court.
- NZPA