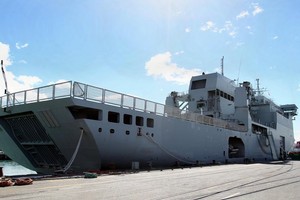 HMNZS Canterbury will sail to Wellington from Lyttelton tomorrow to load up with much-needed disaster relief supplies for quake-affected Christchurch.
On the cargo list are 28,000 litre fuel truck, 29 4 x 4 vehicles, six containers, eight pallets of water, telecommunications equipment, a front end loader and an Army Bailey bridge.
The Canterbury was expected to arrive in Wellington at 6pm tomorrow, and depart for Lyttelton at 4am on Monday.
Defence Minister Wayne Mapp praised the Canterbury's role in the quake recovery effort.
"Canterbury was in Lyttelton when the earthquake struck. Her crew have done a tremendous job there," Mapp said.
"In particular they have provided hundreds of meals to the community. I visited Lyttelton on Thursday and people spoke very highly of the support the ship has provided.
"The same can be said of all Defence Force personnel deployed to help in Canterbury.
"From the soldiers on the cordon, to the army engineers who set up a desalination system yesterday, to the round the clock air support that the RNZAF has maintained, the services have done a first-class job.
"There is a long way to go for Canterbury but the defence force will be there, doing whatever it can to help," he said.
While the Canterbury is loading supplies in Wellington, the HMNZS Otago and HMNZS Pukaki be at Lyttelton Port, continuing to support those affected by the quake.
- NZPA