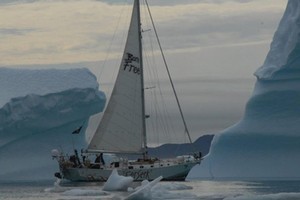 An empty and damaged liferaft found in the Southern Ocean off Antarctica early today has been confirmed as belonging to the missing Norwegian yacht Berserk.
The liferaft was found about 9am by a helicopter from the Sea Shepherd Conservation ship Steve Irwin, which had been searching for most of yesterday and for several hours today.
Paul Watson, the skipper of Steve Irwin ordered a seaboat launched to recover the liferaft.
The liferaft, the same make as that carried on the Berserk, had a torn canopy and was missing its first aid kit and survival knife.
The National Rescue Co ordination Centre in Wellington said there was no sign the liferaft had been occupied and it may have floated free from the vessel and not been released manually.
Berserk landed its skipper Jarle Andhoey on the ice with another crew member as part of an expedition to the South Pole. Mr Andhoey confirmed to the rescue centre the liferaft was from Berserk.
The Steve Irwin and a helicopter continued to search the area but no further trace of the missing vessel or the men had been found.
The water temperature was about minus 12degC, meaning survival was only a few minutes.
The search began after the yacht's emergency beacon sent out a signal on Tuesday afternoon. It stopped transmitting after several hours.
The two crew members on the ice are safe and well but still a day or two from McMurdo base.
- NZPA