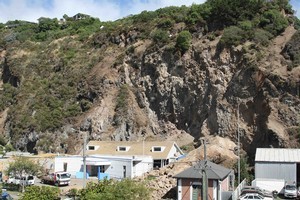 A Christchurch man whose house was condemned after Tuesday's earthquake says it's fortunate no one was home at the time.
The Sumner resident was among dozens who were evacuated from their homes this afternoon amid fears more rocks could fall from the cliffs above the seaside suburb.
Fire service members went door-to-door asking residents in the areas between Evans Pass Road and Campbell Street to leave thier properties.
"We want people to get out. We don't want anymore people dead," said a fire service member.
The Sumner man, David Arscott, said while it was devastating to have to leave his home of six years, he was fortunate no one was hurt.
A two-metre boulder crashed through his roof and buried itself in the floor, splintering his bed into tiny pieces in the process.
"The bed is just bits in the wall now," he said.
"Luckily no one was home. My wife was supposed to be here but was out with a friend unexpectedly.
"Ours was by no means a flash home, but we loved it to bits."
During the earthquake, one of Mr Arscott's neighbours clambered under her kitchen table with her 10-month-old child as a boulder came crashing through the wall of her home, destroying her fridge in the process and stopping just short of the table she was under, he said.
The houses are at the base of a cliff and huge boulders already lie scattered on the street from Tuesday's 6.3 magnitude earthquake and aftershocks.
The operation is being complicated by a bogus official who has allegedly been telling residents in the wider Sumner area - who are not considered at risk - to also leave. Police are hunting for the man.
Twelve streets in the Sumner-Redcliffs area were evacuated last night. Parts of the cliff face in Redcliffs have just crumbled away.
Firefighters at the Sumner Fire Station have been working 14 hour shifts and extra staff have been brought in from the West Coast.
Peter Cuff - a senior firefighter from Hokitika - said his team had done a lot of work making houses watertight with tarpaulins and removing unsafe chimneys.
He said firefighters helped police with last night's evacuations.
"To be honest it was 95 per cent self evacuated anyway," he said.
"The area was bad enough that they had already made the decision to go. I don't blame them. The ones we were talking to were going to family and friends' places."
Sumner Chief Fire Officer Alan Kerr said there had been three or four deaths in the Sumner area, 'which was pretty traumatic".
The Herald spoke to one Sumner resident who had returned to Christchurch from Canada, concerned about her three adult children.
She expressed disbelief at the scale of devastation in the area.
Another resident, Richard Harcourt, described the area as a bit of a ghost town but said he hoped people would return.
He said he had sent his children to Auckland so they could go get an education while schools in Christchurch were closed.
Labour MP Ruth Dyson has been going around her electorate in Sumner checking on people's welfare.
Ms Dyson said one elderly woman came up to her and said asked if she had any hot food.
The woman said she had heard about schools in Auckland who were fundraising for the relief efforts in Christchurch, Ms Dyson said.
Rescue sites further damaged by rain
Police earlier said quake-damaged buildings in the centre of Christchurch were being made more unstable by rain falling in the city.
At a joint media conference this morning, Superintendent Dave Cliff said the body count from the earthquake had risen to 113 and police hoped to release more names of victims later today. He said over 200 people were still missing and there were grave fears for their safety.
Paul Baxter from the New Zealad Fire Service said there had been no live rescues this morning but work was continuing at the Pyne Gould building and CTV site. There are now 600 Urban Search and Rescue staff working in the city.
"Preservation of life is still our first priority."
Mr Cliff told reporters today's rain was making the rescue sites more dangerous.
A search and rescue worker was struck on the head by a loose piece of masonry this morning but was fortunately wearing a helmet, he said.
Mr Cliff urged people to respect the cordons around the central business district.
"We are aware of people sneaking into that area who think it is quite clever. Frankly it's stupid and ridiculous."
"Respect those cordons, they're there for a very, very good reason."
Christchurch Mayor Bob Parker reassured families who had lost loved ones and property that the city stood in solidarity with them.
"Your families are our families, your children are our children.
"We are taking full responsibility to do everything we can to assist those families.
Christchurch Mayor Bob Parker told the conference more than half the city had water connections and all areas now had water supplies available.
Power cuts
He said reconnecting the quarter of Christchurch still without power was going to be a difficult and lengthy process.
New overhead lines would have to be built in the eastern part of the city as underground cables were "shot to pieces".
He said 75 per cent of Christchurch had power and that it was hoped that would increase to 80 per cent tonight.
But he said turning the lights back on it the remaining 20 per cent of the city was expected to be much more difficult, warning the "easy hits" were over.
The chief executive or power company Orion told the conference it could take weeks to restore power to parts of eastern Christchurch.
Roger Sutton said four major cables from Bromley substation were extensively damaged in the earthquake.
His workers were constructing a 3km overhead line to provide temporary power to eastern suburbs such as Brighton over the next week.
However, the line was still only likely restore power to half the houses in those areas, he said.
"It's a line that would normally take us six or seven weeks to build and we're hoping to have it done within a week
"But once we have the line though that doesn't mean magically all that... area comes back on."
Mr Sutton said his workers were facing constant difficulties working around damaged infrastructure throughout the city.
He yesterday watched three workers restore power to an area, only to see it short circuit again within minutes.
Civil Defence Director John Hamilton told residents there was no need for them to be concerned about fuel supplies as more were on their way from Timaru and the city would not run out of fuel.
The situation was the same for food supplies, he said "the city is well stocked".
THE NUMBERS
113 confirmed fatalities - four names released
Over 200 missing
70 live rescues
10 international teams on the ground
559 rescuers on the ground
594 seen by emergency departments - 164 of those admitted to hospital
2000 people have had treatment for injuries
11 patients in intensive care
452 people in welfare centres
(John Carter said this number was down on the September quake as more people were self-evacuating the city)
20,131 calls to the Government's help-line
Five active welfare centres
- WITH NZHERALD STAFF