Five top stories from this mornings coverage of the Christchurch earthquake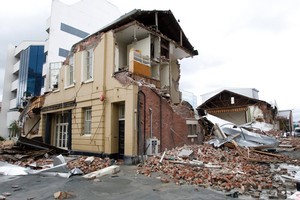 Little chance of any live rescues, says Minister
Civil Defence Minister John Carter said this morning that while rescuers are still looking for survivors, the chance of more live rescues was becoming "unlikely". He raised the official death toll to 102.
In memory of the victims of the Christchurch earthquake:
Faces of the lost: remembering people killed in the Christchurch earthquake. You can leave your message of condolence.

Water, power, slowly being restored:
Fifty per cent of Christchurch now has a basic mains water supply.
Seventy-five per cent of the city now has power as improvements to the power supply were being made daily but "progress may be slow due to road damage, as much of the damage to electricity network is underground".
What NZers are doing to help:
A list of many of the ways communities and businesses across New Zealand are trying to help the people of Christchurch.
Send your messages of support:
Contribute and read hundreds of messages of support for Christchurch from New Zealand and around the world.