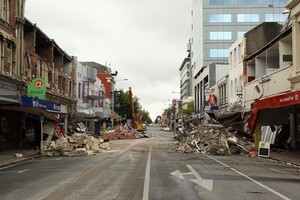 That concludes our latest updates for this evening. We will be back tomorrow morning with full coverage of the aftermath of the Christchurch earthquake.
10:34pm
The fire service is urging people in Christchurch to take care as power is restored to the earthquake-hit city to avoid further fires breaking out.
The fire service had attended four fires overnight caused by power being restored to buildings, Fire Service assistant national commander Brian Butt said.
Christchurch residents should ensure all appliances were switched off or unplugged before power was restored, he told NZPA.
Fires often started in these situations for example if an oven had been on before power was cut then remained on when power was restored, Mr Butt said.
Power has been restored to just over 80 per cent of the city tonight.
9.39pm
Thirteen staff at a medical centre are among the missing in the collapsed Canterbury TV (CTV) building in quake-hit Christchurch.
GP Victoria Flight, who owned the practice, said it was unknown how many patients had been inside The Clinic, based in the CTV building, when the 6.3 earthquake struck on Tuesday.
She had only heard from one of the 14 staff working that day, she told New Zealand Doctor today.
"The days are taking their toll..."
Dr Flight was not on duty at the practice on Tuesday because of an injury.
She felt more "guilty" than lucky to be alive.
Four doctors, including Allan Sinclair, Maysoon Abbas and Husan Al-Ani; three nurses including Teresa McLean and Jane Grant; receptionists Marion Hilber and Dian Falconer; one practice manager and three allied health professionals had been working at the clinic on Tuesday, New Zealand Doctor reported.
The 14th staff member, receptionist Pip Lee, was pulled out of the rubble alive, the only staffer to escape.
At least one patient there at the time of the quake was also still missing, the newspaper reported.
8.43pm
Thirteen Filipinos are believed to be among those trapped in the collapsed Canterbury TV (CTV) building in quake-ravaged Christchurch.
Up to 122 people are feared missing in the building, including more than 50 international students and staff from private training school King's Education.
Christiana Carazo, from the Philippines, was a staff member at King's education who was in the building when the quake hit on Tuesday, abs-cbnNEWS.com reported.
The website reported the other missing Filipinos were:
1. Jesse Lloyd Redoble
2. John Christopher Chua
3. Ezra Mae Medalle
4. Emmabel Anova
5. Jewel Francisco
6. Ivy Jane Cabunillas
7. Elisa Torres
8. Mary Louise Anne Amantillo
9. Valquin Bensurto
10. Rhea Mae Sumalpong
11. Erica Nora
12. Lalaine Agatep
7.14pm
Waimakariri Mayor David Ayers said "a steady stream" of people from Christchurch have been inquiring about accommodation at a welfare centre set up at the Baptist Church in Rangiora, about 20 minutes north of Christchurch.
"We're acting as a welfare centre for Christchurch - we don't have immediate needs for Waimakariri," he said.
About 16 people stayed at the welfare centre last night, while others were referred to private homes around the district, where people have been offering places to stay.
Mr Ayers said he expected more people wanting to get out of Christchurch would be coming to the area.
"That has been happening, and we are also anticipating that Christchurch may have to relocate some people from their welfare centres out here,'' he said.
"If this rain gets worse, there will be a lot of houses in Christchurch that are not weather tight."
6.31pm
The Government of Japan has donated USD$500,000 (NZD$666,042) to the New Zealand Red Cross as an emergency grant aid, in response to the extensive damage caused by the earthquake.
6.18pm
The Newmarket Business Association is coordinating an appeal among its 500+ retail stores, which will all put out a gold coin collection box.
Meanwhile, Geocachers, an online treasure hunt, has a geocoin for sale on www.geocachers.co.nz with all profits going to the Red Cross.
6.05pm
Inspector Derek Erasmus has released the names of two more victims: Jeff Pelesa Sanft, 32, and Andrew Christian Ross Craig, 46, both of Christchurch.
The toll remains at 113.
Today 323 Australian police from Victoria, Queensland and New South Wales flew in and were sworn in as New Zealand officers.
"The influx of our Australian colleagues has been fantastic."
5.59pm
The structurally unsound Grand Chancellor Hotel may need to be brought down so rescue and recovery teams can enter damaged buildings in Christchurch city centre, Mayor Bob Parker says.
It is hindering access to that area for search and rescue teams.
A four block area around the damaged building has been cordoned off due to fears it could collapse.
"It causes us significant problems. Clearly there needs to be some kind of resolution."
It will have to either fall on its own or be demolished under controlled circumstances, he said.
5.55pm
Two aftershocks have struck just before 6pm after several hours without any reported aftershocks.
The first at 5.40pm was a 4.4 magnitude tremor at a depth of 6km, 10km south of Christchurch.
Six minutes later a 3.3 magnitude quake hit, only 1km beneath the surface within 5km of Diamond Harbour.
5.54pm
Bob Parker says the scale of damage far exceeds the extent of damage found after the September 4 quake.
A curfew in the CBD will be in place from 6pm until 6am.
Ten buildings have been red-stickered and will have to be closed.
5.50pm
Lyttelton and New Brighton now both have water desalination plants courtesy of the Army.
But there is a total ban on watering gardens in Christchurch and people should shut down any automatic irrigation systems.

5.48pm
The level of liquefaction after Tuesday's 6.3 magnitude aftershock dwarfs the amount caused by the original earthquake that hit Christchurch in September, Mayor Bob Parker says.
He says the amount of damage is particularly high in the city's eastern suburbs.
"The scale of this is huge.
"Possibly 300 to 500 per cent the level of liquefaction we had in September."
5.32pm
Police are asking the large number of motorists heading into and out of Christchurch today and over the weekend to drive with care.
National Manager Road Policing Superintendent Paula Rose said increased traffic volumes, combined with badly damaged roads have increased the risks.
"Some of the risks over the coming days include fatigue, drivers who are stressed and not concentrating, those who drive under the influence of alcohol and drugs, and people driving cars that may not be road-worthy.
Ms Rose said any perception that Police may be "too busy" to deal with traffic matters due to the focus on the earthquake response is wrong.
"We will continue to do everything we can to keep the public safe on our roads," she said.
5.20pm
Auckland's Diocesan School for Girls has raised more than $14,000 for Christchurch's earthquake victims today by holding a black and red mufti day.
Prefects and Year 13 students came up with the idea and collected donations from staff and students at the all-girls Auckland school in Epsom.
Hundreds of Year 1 to 13 students gathered on the school's front lawn at lunchtime to form a giant heart and shout out a "Kia Kaha Canterbury" message of support to those affected by the quake.
5.15pm
All court buildings in Christchurch will remain closed until further notice, the Ministry of Justice has announced.
Anyone summoned for jury service in Christchurch next week is not required to attend.
There is a 24-hour freephone number for anyone with questions or concerns relating to court matters, fines or any other justice service - 0800 324 627.
5.13pm
Search and rescue workers have begun work in preparation for removing bodies from under piles of rubble at the Christchurch Cathedral.
Dean Peter Beck told NZPA an Urban Search and Rescue team had begun work at about 2pm to remove masonry from the top part of the cathedral's collapsed tower.
"It's a very delicate job. I'm assuming that because they're now doing that they've been able to ascertain how safe the building is for these guys to be doing this work."
Mr Beck said there was no expectation anyone was alive in the rubble.
5.10pm
There is no problem with supplies of medication to pharmacies in quake-ravaged Christchurch, a pharmaceutical supplier says.
There had been issues with one supplier, but ProPharma, which usually supplied about half the pharmacies in Christchurch, was now supplying any in need, its general manager David Lewis said.
The company had ample stocks in Christchurch and Mr Lewis could not foresee any supply issues in the future.
5.07pm
Aftershocks are likely to continue in Christchurch until September, GNS Science reports.
Seismologist Bill Fry says the violent aftershocks that hit the city in the wake of Tuesday's 6.3 magnitude earthquake have faded.
But an earlier prediction there will be small shocks for about a year after the original 7.1 earthquake that hit the city last September still stands, he says.
"This aftershock sequence will decay back down into the previous aftershock sequence.
"For that sequence, the year is about a rule of thumb."
It was likely the scale of the aftershocks will decrease in magnitude as time goes on, he says.
"It's like walking down a mountain. The more you increase your distance from the top of the mountain the flatter it probably is.
"The 6.3 is like a hump in that slope. It goes up and then it flattens back off."
5.04pm
The chief coroner is hopeful more victims will be released to their families in the next few days.
The confirmed death toll stands at 113 with more than 200 missing.
Information that may help identify victims should be given to the Red Cross via phone or staff on-site, Chief Coroner Judge Neil MacLean said.
"Every little bit of information helps us to get loved ones back to their families - distinguishing marks and clothing, where dental records can be obtained, their last known location and photos."
5.00pm
Another reader has sent us information about a charity drive to help Christchurch.
A large horse float is being loaded with food, gear and vet supplies and making its way from Taupo to Christchurch. It is being organised by Jess Sloan of Parkview Equestrian.
4.55pm
Robin and Nick Patten provided this eye witness description of the moment the earthquake hit Christchurch.
"We were parked in the car park at the rear of the Edmond Fielder Factory Garden on Ferry Road. It felt like someone had bumped the car and then the car car just rocked, rolled, pitched, you name it, we were thrown about very violently.
"We stayed for a while in shock whilst aftershocks rumbled then liquefaction began pouring through the gate at the rear of the gardens. We took a look and a fracture ran through the garden spewing liquefaction along it's length.
"We thought it best to leave and found the small inroad warped and buckled and spewing liquefaction. We only just managed to get a 4x4 through. When we got to the main road it was clear how bad it had struck. We left the car park at 1.07pm and already the traffic was being directed through the lights, amazing fast response. Took over 2 hours to get to south side of city to leave.
"This journey was nothing short of harrowing witnessing the devastation. Being at least two blocks from the centre we did not realise just how much damage had occurred in the very centre. We keep saying to each other how lucky we were to have decided to grab some lunch and eat there as normally when we visit we eat at the Foodcourt above the bus exchange."
4.52pm
New Zealanders have been deluging nzherald.co.nz with comments, messages and ideas after the devastating earthquake.
Penny Fuller wrote: "I feel so lucky to be alive! I was in the Square on Tuesday when the quake hit. I have been taken in to a friend of a friends home down in Ashburton. What happened on Tuesday will stay with me for a long time yet. My love & thoughts go out to those people who are still in Christchurch."
Hazel Lyle said that Westmere Primary School in Auckland held a red and black day today to support Christchurch. It raised $849 and a donation box is still available in the school office.
And a church on the Kapiti Coast sent this message to us for the people of Christchurch on Youtube.
4.49pm
Simon Goh has sent in this message of support from the Chinese Methodist Church in Merivale, Christchurch.
"Our prayers are for a dear friend of ours that worked in the collapsed CTV building, who is still missing. Together with the people in Christchurch, our hearts feel like our torn church building that experienced the destructive of the force of the quake once more. Though the building can easily be replaced, the scars in our hearts would take much longer to mend. In times when nothing is certain and insecurity overshadows, we continue to set our sights on our Lord who is our Shepherd, Helper, and our Hiding Place. May God comfort and be with everyone in Christchurch."
4.45pm
Thea Fryn has helped organise a candle light service to keep the people of Christchurch in people's prayers.
People will gather at 8pm at the lookout point on Goodwood & Eugenia Rise Drive, Totara Heights Manukau City.
4.40pm
Nzherald reader Nick Bracken has pointed out these NASA images taken from a satellite the day after Tuesday's massive earthquake.
The resolution is not quite good enough to see damaged buildings.
4.38pm
Aucklanders have unhesitatingly opened their homes to Christchurch evacuees and coordinators now believe they have more than enough beds.
Mayor Len Brown says since the request went out on Tuesday, more than 1700 people have called 0800 AUCKLAND and offered to host those displaced by the earthquake in their homes.
"Given the overwhelming number of offers received we're confident there are now enough hosts on standby to house people over the coming days and weeks."
The team staffing the 0800 AUCKLAND line will now concentrate their efforts on helping people that need accommodation advice and support.
4.28pm
Contact Energy is providing free Rockgas LPG to anyone who needs it for a limited time. There is a maximum of two refills per person; a 9kg bottle can filled for free at any of these service stations:
Challenge - 45 Halswell Road, Halswell
Challenge - corner Milton and Selwyn Street, Christchurch
Challenge Waimak - Main North Road, Kaiapoi
Caltex - Blenheim Road, Riccarton
Caltex - Lincoln Road, Addington
Caltex - 315 Main North Road, Redwood
Caltex - 66 Riccarton Road, Riccarton
Challenge - 11 Opawa Rd, Opawa
Butler Automart - 261 Stanmore Road, Richmond
Blighs Road Service Station - corner Blighs and Idris Road, Papanui
Rockgas North Canterbury, 61 Williams Street, Kaiapoi
4.25pm
Baked Relief, a group started by Brisbane mother Danielle Crismani, is now raising money to help the people of Christchurch.
The group was set up to help provide food and money through home baking for the victims of the Queensland floods in January.
4.22pm
The Ministry of Health is co-ordinating responses from health professionals wanting to help in Christchurch with a national volunteers database.
Doctors and nurses who work in a New Zealand DHB can volunteer through their DHBs.
Other health workers can contact the Ministry of Health, National Health Emergency Plan at nhep@moh.govt.nz It is important to include "volunteer offer' in the subject-line. Information should also include a detailed description of your role and qualifications.
4.19pm
New Zealand Post will resume partial mail services to earthquake-affected areas in Christchurch from Tuesday next week.
Some PostShop/Kiwibank stores in the city have already opened.
There is free mail redirection for available - see www.nzpost.co.nz or call the customer service centre on 0800 501 501.
4.10pm
A 1km ocean swim will take place tomorrow morning to raise funds for Christchurch.
Cash donations only will be accepted, with all proceeds going to the Canterbury appeal.
People can sign up from 7.30am at Milford Beach Reserve, Craig Road on Auckland's North Shore. The swim is slated to start at 8am although depending on numbers this may vary and start waves may be introduced.
The course will be patrolled by Surf Lifesaving New Zealand, but you will need to be a competent swimmer and bring and wear your own swim cap.
Contact Quantum Events for more details. info@quantumevents.co.nz or phone 09 486 0240.
4.00pm
Remember, if you can offer accommodation, contact Housing NZ - 0800 HELP 00 (0800 435 700) or http://www.housinghelp.govt.nz
3.40pm
The Crusaders' first two Super Rugby home games will be played at Nelson's Trafalgar Park.
The Crusaders will play their week three match against the Waratahs on Friday, March 4 and their week four match against the Brumbies on Friday, March 11. Both games will be in Nelson after Christchurch's AMI Stadium was closed following Tuesday's earthquake.
AMI Stadium owners Vbase yesterday announced the Stadium would be closed until 15 March while they conducted a detailed assessment of damage caused by the earthquake.
3.30pm
Paymark has provided a recently updated list of Christchurch retailers with fully operational EFTPOS services.
3.12pm
Listed whiteware maker Fisher & Paykel Appliances has set up free community laundry service centres in Christchurch for people affected by the earthquake.
Two sites are currently open. The first is in Hornby at 79 Shands Rd. The second is in Kaiapoi at corner of Berswick and Charles St (located in a portacom). Both are open from 8am to 4pm.
Fisher & Paykel says it plans to soon have additional sites operational at various locations around the city. The company provided a similar service following the September quake, however a site it was running at Aranui is no longer operational due to a lack of water and sewerage facilities.
3.06pm
Tractors are clearing liquefaction remnants from Hills Road.
3.05pm
Water tankers are currently stationed outside Shirley Primary School.
2.55pm
More than 350 people taking refuge at one of Christchurch's welfare centres after Tuesday's devastating earthquake are being transported out of the city, amid health concerns.
A Christchurch City council spokesperson said the welfare centre at Cowles Stadium would close at 4pm due to concerns there could be an outbreak of measles or diarrhoea and worries about sanitation.
A Canterbury District Health Board spokeswoman said the 378 people at the welfare centre would be transported by bus to welfare centres in Rangiora and Rolleston.
2.53pm
Christchurch residents in search of fresh water are being urged to keep away from the rivers, Newstalk ZB reports.
Councillor Sue Wells says the water in the Avon and Heathcote Rivers is not for drinking.
"At the moment the rivers are basically open sewers," she says. "You don't take the water, you don't touch it, just don't go near it. Leave it alone."
Civil Defence says low pressure water supply was this morning available to 50 percent of residents in Christchurch. More than 40 tankers with water are deployed around to provide water in key locations while the Army is installing water purification plants at Lyttelton and New Brighton Pier.
2.51pm
A New Zealand retailers meeting will be held in Auckland on Monday to discuss issues facing Christchurch retailers in the wake of Tuesday's devastating earthquake. The purpose of the meeting is to discuss and share ideas around re-opening, managing staffing situations and ongoing support for the teams.
The meeting is being facilitated by Retailworld Resourcing and will be held on Monday at 3.30pm at the Auckland Commerce Centre.
If you are a retailer affected by the earthquake and would like to attend, email Trish McLean: trishm@rwr.co.nz.
2.47pm
As world oil prices increase, local fuel suppliers claim they are holding back a NZ-wide petrol price rise because of the recent Christchurch earthquake.
Caltex spokeswoman Sharon Buckland says the decision to delay the rise was to avoid putting a further burden on the city. "The price should have gone up. We made a decision this week to hold it where it is,"says Buckland. "It just wasn't the right time."
Oil prices rose from US$105 to US$115 dollars a barrel overnight amid the Libyan political crisis.
She said the company is now under a great deal of pressure to raise its petrol price, but would not say whether it was considering keeping Christchurch prices at the current level and raising them in the rest of the country.
BP spokeswoman Di Papadopoulos says her company also decided against raising prices in the midst of a trying time for Christchurch and New Zealand.
2.35pm
The State Corsair Classic ocean swim planned for this Saturday in Christchurch has been cancelled. Organisers said, "now was not the time to bring large numbers of people together in Christchurch as residents of the city go about securing their lives and property."
In its place, a 1km charity swim has been organised for this Saturday, February 26 starting from Milford Beach Reserve in Milford, Auckland. Sign-up is from 7.30am and the event starts at 8.00am. Entry is by donation and all proceeds go to the Canterbury Earthquake Appeal.
1.55pm
Earthquake Recovery Minister Gerry Brownlee says the National State of Emergency is likely to continue for some weeks.
1.48pm
Earthquake Minister Gerry Brownlee said the EQC had 181,000 claims as a result of the September 4 earthquake and another 130,000 are expected after this week's quake.
Mr Brownlee said this made it, "one of the biggest insurance events in the world."
1.25pm
Murray McCully says the rescue phase of the Christchurch disaster is drawing to a conclusion, Newstalk ZB reports.
Mr McCully also thanked the overseas assistance received and offers of help the Government has not yet accepted.
He could not say how many of the missing were foreign nationals and how many were New Zealand residents.
"We are getting to the stage where we will be giving bad news to these families," he said. "I can say clearly this is not just New Zealand's tragedy."
1.10
New Zealand Lotteries says it is understandable if people want this weekend's $15 million Lotto prize given to Christchurch earthquake victims, but it is not possible.
Social networks have rallied together to gather support for Christchurch earthquake victims with a message to get NZ Lotteries to donate this weekend's prize to the earthquake fund.
NZ Lotteries spokeswoman Karen Jones said it is governed by a very strict legal frame work on how the prize pool is allocated. "It is not possible under that legal framework to cancel a draw or re-allocate prizes," said Ms Jones.
1.00pm
Some Christchurch parents have enrolled their children in schools outside of the city while local schools remain closed, Radio New Zealand has reported.
Education Minister Anne Tolley said there were less than 100 parents who had done this so far.
It is not known when schools in the city would reopen.
Christchurch Girls High, Avonside Girls High, Shirley Boys High, Manning Intermediate, Mount Pleasant Primary, and Van Asch Deaf Education Centre were significantly damaged in Tuesday's quake.
12.58pm
The fate of Christchurch's quake-ravaged heritage buildings will be become clearer when emergency services declare the sites safe to enter, according to the Historic Places Trust.
Trust staff have begun assessing some of the city's historic treasures, including; the Provincial Chambers, Press Building, Arts Centre, Basilica and ChristChurch Cathedral.
"These buildings are much-loved, iconic landmarks that helped to tell Christchurch's story and have made the city the special place that it is and what locals and visitors readily identify with,'' said chief executive Bruce Chapman.
"There is no easy answer to whether Christchurch can rebuild its damaged historic buildings."
12.55pm
New Zealand Post is grieving for at least one staff member with several others unaccounted for following Tuesday's devastating earthquake in Christchurch.
A spokesman for the company today confirmed one of its employees had died and others were missing in the wake of the 6.3 magnitude tremor but declined to give any specific details.
12.35pm
Lyttelton Tunnel will not open to general traffic until Saturday afternoon, according to Civil Defence.
12.22pm
Telecom staff were today continuing to restore phone lines following Tuesday's earthquake.
The telco today said the state of its network improved overnight due to a combination of mains and generated power.
Telecom has 60 generators providing backup power to network sites still without mains power.
The company said it had so far collected more than 3000 analogue landline phones which were being made ready for distribution.
The "old-fashioned phones" don't require electricity, and Telecom is asking people to drop any spares to Telecom stores during retail opening hours.
The company said more than 20,000 calls had been made from 260 free Telecom payphones across Christchurch.
Two additional payphones were now stationed at Pioneer Stadium and Burnside High School welfare centres.
A third free payphone was on its way to Christchurch from Auckland.
Free WiFi spots were also available at Telecom Riccarton Mall, Cafe Zero on Cashmere Rd, and the Westpac Centre in Addington.
Telecom said Christchurch customers could have their landline number diverted to another number for free by calling them on 120 and business customers on 125.
12.11am
The immediate danger of the Hotel Grand Chancellor collapsing appears to be over, Newstalk ZB reports.
Surveys show the building has stablised, and has not moved for two days.
A 90 metre cordon remains in place around the area and regular measurements of its movements are being taken.
11.56am
Police have corrected the age of one of the deceased, released yesterday. Jayden Harris was incorrectly named as 9-months-old, when he was in fact 8-months-old when he died. Police regret any distress caused by this error.
11.53am
The ANZ 2011 Canterbury Earthquake Appeal now totals more than $700,000. This includes donations from members of the public to ANZ and National Bank branches and also staff donations.
11.51am
A looter stealing a Pearl drum set was caught red-handed by police this morning near a music store in Blenheim Road, Christchurch. The looter had got just 15 metres before being caught by police and arrested. The looter smashed the store's front window to gain entry.
11.43am
BP Oil NZ will be matching dollar for dollar all donations made to victims of the Christchurch earthquake through its Wild Bean cafes and BP Connect stores.
11.40am
District Commander Superintendent Dave Cliff said today's rain is making the rescue sites more dangerous.
"Some of the masonry that is unstable will become more unstable," said Mr Cliff.
A rescue team member was struck on the head by a loose piece of masonry this morning, he added, but was fortunately wearing a helmet.
He urged people to respect the cordons around the central business district.
"We are aware of people sneaking into that area who think it is quite clever. Frankly it's stupid and ridiculous," he said. "Respect those cordons. They're there for a very, very good reason."
11.32am
The aftershocks continue in Christchurch. The latest occurred at 11.15am and measured 3.1, located 10km south-west of the city, GeoNet reports.
11.29am
Civil Defence director John Hamilton said there is no need to be concerned about fuel supplies. Bulk supplies are on there way from Timaru and the city will not run out of fuel, he said, adding that same is true for food supplies.
"The city is well stocked."
11.25am
Christchurch Mayor Bob Parker said more than 50 per cent of the city has water connections, while all areas have water supplies.
75 per cent of the city has power, and that figure should rise to 80 per cent tonight. Overhead power lines will have to be built in the eastern suburbs from Bromley to Brighton. Construction will start tomorrow and should be finished in a week.
11.11am
Fullers will be running two fundraisers this Monday to help the Red Cross Christchurch Earthquake Relief Fund.
On Monday Feb 28, all revenue from food and beverage purchases onboard all Fullers ferry services will be donated to the Red Cross. On the same day, an auction will be held on sella.co.nz for Fullers ferry tickets and tours.
11.00am:
Superintendent Dave Cliff has announced the death toll has risen to 113.
10.52am
Christchurch Mayor Bob Parker said an Australian Army field hospital will be set up today in the Cowells Stadium area, to the east of the city.
10.50am
Civil Defence's John Hamilton said there is expected to be an overnight temperature of 11 degrees Celsius in Christchurch tonight.
Rain this morning is expected to ease this afternoon.
10.40am
The Privacy Commissioner has issued an emergency code for authorities dealing with personal information in the wake of Christchurch's devastating 6.3 magnitude quake.
"Although the Privacy Act already allows collection and disclosure of information in emergencies and for public safety, greater certainty will help everyone," commissioner Marie Shroff said.
The code, which will remain in force for at least three months, will allow emergency services and government agencies dealing with the aftermath of Tuesday's tremor to share personal information for the benefit of quake victims and their families.
10.20am
Officials believe they will be able to have Lyttelton Port partly operational from tomorrow, Newstalk ZB reports.
Port chief executive Peter Davie says a tanker with fuel is expected to arrive tomorrow, and hopefully on Sunday they'll begin limited container operations.
But, Mr Davie says it will take a while for the port to be back to normal. He says it has been badly hit, probably twice as bad as last time, and will take years to rebuild.
10.12am
John Key says the Earthquake Commission fund has been cleaned out, but he is confident the Government can pay for the cost of the disaster.
10.10am
GeoNet reports that another aftershock hit Christchurch at 9.34am measuring 3.7, 10km east of the city. It is the third aftershock in the last hour.
10.05am
Mayor Bob Parker has told TVNZ the ChristChurch Cathedral, which lost its spire in Tuesday's quake, will be rebuilt.
Mr Parker said the weather was a worry today for people without power as it is cold.
There has been rain this morning but showers are expected to clear this afternoon, according to MetService.
"If we get heavy rain we will get surface flooding because we know the drains are broken," Mr Parker said.
70 homes in the city have been condemned as they are too unsafe to move back into.
9.55am
The West Coast DHB is urgently requesting the return of any loan equipment that patients no longer need. Items such as braces, crutches, walking frames and wheelchairs are likely to be needed by victims of the Christchurch earthquake and can be returned to any West Coast DHB medical centre, general practice or hospital.
It is also asking for the return of weights and wobble boards for rehabilitation and other equipment such as disability shower seats.
9.46am
50 per cent of Christchurch now has basic mains water supply, according to the city council. 200 portable toilets have also been distributed, with another 1200 arriving soon.
32 roads and 13 bridges around the city remain closed.
New Zealand Army desalination plants are currently processing 5000 litres of water per hour. This is available in Lyttelton and New Brighton.
However it is bad news for one of the city's key sewage facilities. "Our main sewer truck is seriously munted," Mayor Bob Parker told TVNZ. "I believe that is the technical term."
9.40am
The first contingent of 120 New South Wales police officers is gathering to leave for Christchurch to help in the aftermath of the city's devastating earthquake.
The officers will be farewelled by Premier Kristina Keneally, Police Minister Michael Daley and Police Commissioner Andrew Scipione at Sydney International Airport this morning.
The officers will assist in tasks such as traffic control and law and order issues like looting.
9.36am
Tuesday's earthquake has forced one of Christchurch's most well known residents to leave the city permanently.
The Wizard told Newstalk ZB that he is leaving New Zealand for good this morning in the aftermath of the earthquake.
Ian Channell, who was awarded the Queen's Service Medal in the Queen's Birthday Honours list of 2009, says he is possibly going to move to Australia, but will return to visit family and friends.
9.22am
All elective surgery at Christchurch Hospital has been postponed until at least March 7.
9.20am
Another aftershock struck Christchurch at 8.46am this morning. It measured 3.4 and was located 10km east of the city, according to Geonet. It was followed by another aftershock six minutes later that also measured 3.4.
9.14am
Civil Defence is asking people not to move road barriers and other traffic signs on Christchurch city streets.
There have been reports of people removing barriers and signs at the Spencerville Road bridge.
Civil Defence says the barriers and signs are in place to protect public safety in earthquake damaged areas and moving them could cause serious incidents.
9.10am
As of 5pm yesterday, 1146 people have been moved out of Christchurch to Wellington or Auckland by the established air bridge, according to Civil Defence.
9.00am
The process to start removing bodies from ChristChurch Cathedral will begin today after its spire collapsed during Tuesday's deadly earthquake.
Up to 22 people are believed to have been buried in the rubble there.
Engineers will work on carefully removing loose and insecure masonry to enable Urban Search and Rescue teams to search through the rubble.
Engineers will be on site at all times to direct the delicate work, which will involve two cranes.
8.55am
Click here for the latest water tanker deliveries timetable.
8.52am
Social Development Minister Paula Bennett says there are Civil Defence payments available for Christchurch residents to buy necessities.
The average payment is $170, but more can be given, she told 3News.
Ms Bennett says WINZ offices are now open in Kaiapoi, Riccarton, Hornby, Rangiora and Ashburton.
She urged people who work in key service industry positions, such as supermarkets and petrol stations, to come to work.
"If you can, your city needs you."
A welfare centre with showers opened in Rolleston last night, which was, "more comfortable for people."
8.44am
As of 9pm last night, Christchurch hospitals had 315 patients, according to Civil Defence. Christchurch Hospital is coping for now, with some spare capacity, but this may change over the next 24-48 hours.
8.41am
The base of the teetering Grand Chancellor Hotel hasn't been investigated as it's still too dangerous, Newstalk ZB reports.
8.27am
Helicontrax and the Rangiora Earthquake Express are delivering supplies to isolated earthquake victims by road and air.
They are calling for more supplies of food, water, babycare products, hand sanitiser and toilet paper. All donated items can be dropped off at collection point at the Chevier Centre CarPark (next to the Catholic Church) 41 Victoria Street, Rangiora.
8.21am
Organisers say people keen to volunteer for the Student Volunteer Army today should arrive at the University of Canterbury Student Association car park on Ilam Road between 9am and 10am. Volunteers should bring their drivers licence or student ID, shovels, wheelbarrows, gloves, raincoats, sunblock, drink bottles, sturdy footwear (gumboots are good). Lunch will be supplied.
If you have screw drivers and crescents, please bring them to the UCSA this morning as the SVA have wheelbarrows that need to be put together.
There is only space for 500 volunteers. You must sign in upon arrival at the UCSA.
For more information please head to: http://www.facebook.com/#!/StudentVolunteerArmy?sk=info
8.15am
300 people spent the night at the Burnside Welfare Centre, down from 400 the night before and 650 the previous night, Newstalk ZB reports.
8.11am
Christchurch Deputy Mayor and mother Ngaire Button advises parents to limit their children's exposure to the disaster in the city.
She tells TV3 parents should not have the news on all day or show children the devastation around the city.
"There are a lot of things they don't need to know about and is not helpful for them to know about."
8.03am
Emergency water supplies are available at the welfare centres and free-standing water tanks will be replenished at the following sites today:
* From 9am to 9.30am and from 2pm to 2.30pm: St Albans, Cranford/English Park; Hammersley, Quinns Road; Marihau, Innes/Mahars; Waimari, Tilman/Blighs; West Spreydon, Lyttelton St.
* From 11pm to 11.30am and from 4pm to 4.30pm: Richmond, Alexandra/Pavitt; Banks Avenue; Burwood, New Brighton; Nth New Brighton, Leaver St; Wharenui, Matipo St; Somerfield, Somerfield St.
* All day: Queenspark, Queenspark Ave; Pioneer Stadium; Cowles Stadium; Redcliffs; Shirley Primary; Parklands Mall; Diamond Harbour First School; Governor's Bay Fire Station; Lyttelton Main School; Lyttelton Port; New Brighton; Brooklands; Mansfield Hospital; Shirley Intermediate; Disraeli Reserve; Heaton Intermediate; Manning Intermediate; Cashmere, Hackthorne; Beckenham, Norwood; St Martins, Albert/Roscoe; Woolston, Ferry/Hopkins; Mt Pleasant, Hornbrook; Sumner, Hardwick/Colenso; Bromley, Kawau; North Linwood, Woodham.
The water needs to be boiled before being used for drinking. People must bring their own container to the sites. If it rains, collect water in buckets. Save all water for drinking.
7.49am
Search teams have checked 95 per cent of the central city area for signs of life and have found nothing. They are now concentrating on two main sites, the CTV and Pyne Gould buildings.
Newstalk ZB reports that the footprint around the teetering Grand Chancellor Hotel hasn't been investigated as it is too dangerous.
7.43am
NZ Urban Search and Rescue (USAR) confirms that they have rescued 70 people since first being deployed after Tuesday's earthquake.
7.39am
As at 2am today, GNS Science says there have been at least 37 aftershocks greater than magnitude 4 and four aftershocks above magnitude 5 since Tuesday's magnitude 6.3 earthquake. GNS Science advises that there may be more magnitude 5 or greater aftershocks in the next few days.
7.36am
Canterbury Earthquake Minister Gerry Brownlee says Christchurch will be rebuilt stronger and more capable to deal with future quakes.
"This is still a great place to live," he said, "There's a wonderful community spirit.
"We will get through it. Most people will want to rebuild and will want to stay."
7.35am
Firefighters have attended three house fires in central Christchurch overnight.
Two of the homes were unoccupied homes and one was occupied, a spokesman told TV3.
He says with power coming back on people should ensure appliances are off and people using candles for light should be careful.
People should not hesitate to call 111 should they have an emergency, he says.
"It is business as usual - if you call 111 we will be there."

7.22am
Police pay tribute to the generosity of the Christchurch community towards those helping with search and rescue.
They say one example is a Rangiora resident who is delivering donated tea and coffee to emergency service staff manning cordons.
7.18am
Oil companies say there is no need for Christchurch residents to stockpile petrol.
Shell says 14 of its 24 petrol stations in the area had reopened, while Caltex had 16 of 19 stations in operation and BP had 11 open.
7.04am
Superintendent Russell Gibson says police have received reports of individuals posing as EQC staff members going door-to-door asking questions about electronic equipment inside the houses, and people in high visibility vests on properties who disappear quickly when they realise they have been seen.
He says there have also been reports of at least two people of Australian nationality presenting themselves to the Fire Service as both Urban Search and Rescue and Disaster Victim Identification staff. Enquiries showed these people are not credited to either role.
He warns residents to vigilant.
6.20am
Superintendent Russell Gibson tells TV3 the death toll rose to 103 about 6am.
6.18am
Civil Defence Minister John Carter says the five bodies recovered last night were from the CBD.
He says "we will just continue on with the search until we are satisfied there are no more bodies to recover".
Rescuers' energies are currently focused on where they know the bodies are, he says.
6.15am
Civil Defence Minister John Carter says there is no need for panic buying and there are sufficient supplies of water and food in the city.
6.14am
Civil Defence Minister John Carter says he believes five bodies were recovered overnight. He says as he understands it the last live rescue was on Wednesday about 3pm.
He says as far as he is aware search and rescue personnel have been able to reach most of the areas they need to, taking specialist equipment.
6.12am
Civil Defence Minister John Carter tells media in Wellington rescuers are now entering places such as alleyways where they suspect that there may be people under the rubble.
6.11am
Civil Defence Minister John Carter says the team of people working in Christchurch are doing an "amazing, outstanding job".
They're in the response stage and their focus is on recovering the injured, he says.
Mr Carter says rescue personnel giving people information as quickly as they can.
"They are heroes, those people that are doing the job that they're doing."
THE NUMBERS
103 confirmed fatalities - four names released
228 missing
70 live rescues
10 international teams on the ground
559 rescuers on the ground
594 seen by emergency departments - 164 of those admitted to hospital
2000 people have had treatment for injuries
11 patients in intensive care
452 people in welfare centres
(John Carter says this number is down on the September quake as more people are self-evacuating the city)
20,131 calls to the Government's help-line
Five active welfare centres

- NZHERALD STAFF, AGENCIES, NEWSTALK ZB