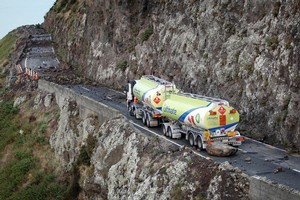 A fuel tanker sits abandoned and blocked by fallen rubble on a main road between Lyttelton township and Christchurch. Photo / Sarah Ivey
Rail links to Christchurch have been largely restored for the resumption of supplies to the earthquake zone.
KiwiRail said last night it had reopened its line between Dunedin and Christchurch, and it expected to complete repairs near Rangiora overnight for trains to start moving south from Picton early today. But the line to the Port of Lyttelton remains closed because of damage to a bridge at Heathcote.