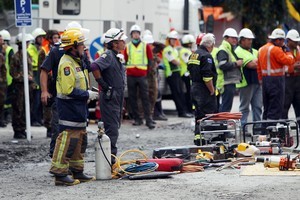 Declaring a national state of emergency is an option when a disaster or other event is or is likely to be of such severity that it is beyond the resources of the local Civil Defence groups.
It provides for national resources to be marshalled to perform emergency functions and tasks such as:
* rescues
* evacuations from dangerous areas and the closing off of buildings, homes and other premises, public places and roads.
* setting up first aid posts
* providing relief such as emergency food, clothing and shelter
* regulating road, air and sea traffic
* undertaking the emergency disposal of bodies
It also allows authorities to requisition any land, building, vehicle, animal, boat, equipment, construction materials, bedding, food and medical supplies considered necessary for the preservation of human life.
The Government declared a national state of emergency this afternoon, and Civil Defence director John Hamilton was heading down to Christchurch to work with the local Civil Defence team.
Civil Defence Minister John Carter said the earthquake was huge task for the local authority, and would need the support of Civil Defence headquarters.
"We will be bringing in people from around the country who have Civil Defence expertise to work in there and work alongside the people of Canterbury, just to make sure that everything is giving them the help they need."
He could not say how long the state of emergency would last.
"It's really hard to know yet. We haven't got sufficient information to actually know yet what's happened exactly. It's too early."
- NZ Herald staff