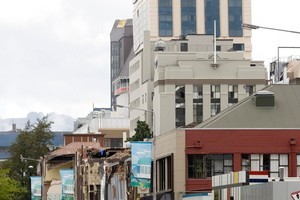 Rescue personnel are being pulled back from the central city as the 26-storey Hotel Grand Chancellor building is on the verge of collapse.
In the last 10 minutes it has moved about a metre horizontally and is now on a lean to the east.
Mayor Bob Parker said it was one of the tallest buildings in the city and if it collapsed posed a significant safety risk.
All emergency and search and rescue teams have been evacuated from a two-block radius around the Grand Chancellor, which is on Cashel St.

One floor inside has already collapsed.
Fire Service national commander Mike Hall said emergency services had moved away from the Hotel Grand Chancellor half an hour ago on the advice of engineers who said it was on the brink of collapse.
He said rescuers would reassess their operations at the hotel in the coming hours if it did not collapse and aftershocks stopped.


The latest aftershock, a magnitude 4.2, came at 1.59pm and was centred 10km southeast of Christchurch at a depth of 5km.
Herald reporter Andrew Koubaridis saw the windows of a building on the corner of Montreal and Walker Sts bulge and part of its roof collapse as the aftershock hit.
Superintendent Dave Cliff this morning said there were 55 bodies in a temporary morgue and 20 more were being taken there.
Christchurch Mayor Bob Parker said 300 people were also listed as missing.
"With those 300 missing people could just be someone called up saying so and so is missing - they may have just left town."
Announcing a national state of emergency had been declared, Prime Minister John Key said the whole country was grieving.
Mr Key said the lives lost were the "greatest loss".
"Buildings are just buildings, roads are just roads, but lives are irreplaceable."
He said the whole of New Zealand was with Canterbury.
"Today all New Zealand grieves for you Christchurch," he said.
But he said the city would recover.
"Though lost lives will never be replaced, and though your city will never look the same again, you will rebuild your city, you will rebuild your lives, you will overcome."
Mr Key said he was "very nervous" about speculating about the eventual death toll but with 75 dead and hundreds missing it was likely to rise.
- NZ Herald staff, NZPA