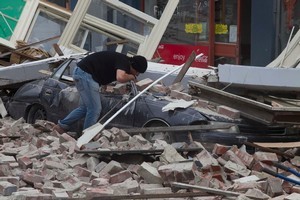 When the shaking begins, my first thought is "it's just another aftershock". There have been plenty in Christchurch since the big quake.
But this time it doesn't let up. The violent rocking of the office builds to a frenzy, accompanied by a deep rumbling. An electric fan and paper files fall from shelves around me.
When I probably should be diving under the desk or leaping for the door frame, all I can do is grip the desk and freeze, desperately hoping it will end without the office caving in on me.
It's obvious this is worse than anything else this earthquake-ravaged city has seen. Worse even than the big one that woke us from our sleep last September. This time it comes as we are working and there is no darkness to hide the reality of it.
As it slowly subsides, I reach for the phone and fumble on the keypad until I reach my colleagues in Auckland to let them know what's happened. I can only get out a few words before I hang up.
I realise the building could still collapse on me and I need to move.
Other stunned workers are pouring out of the building. We gather in the adjoining carpark where the concrete has ruptured and risen in patches. People begin to gather, but there is no chance to take in what has happened.
Within a minute thick grey water and sludge pour out of the concrete, flooding the carpark and street. Workers rush to get their cars out as it builds into a foul-smelling pool.
All of a sudden, I'm lost as to what to do next. I try my cellphone but the lines are congested. I get into my car, and drive on to the street, which is filling with the grey water, and other people fleeing.
As I struggle to find somewhere to park amid the chaos, my heart sinks as I realise I have left my house keys in the office. It's too late to get back inside. At this point, I'm fearing what I will find at home.
On the footpaths, people are crying and hugging each other. Some look dazed or puzzled. Others can somehow find the funny side of it.
People begin to take to their cars to flee the buckled street that is starting to resemble a fast-flowing river. I join the queue and the drive home that would normally take me half an hour stretches to more than two hours.
As the slow, desperate crawl into the suburbs begins, I see the stressed and stunned expressions on the faces of other drivers. I drive past crumbled buildings, crying children and a man holding a bandage to his bleeding head.
Many traffic lights are down and people vie for position at uncontrolled intersections. Even police cars and ambulances with sirens blaring struggle to find their way through the gridlocked streets.
As I wait in the queues of traffic, a nasty aftershock strikes and the cars in front of me rock violently, drivers helpless to do anything but ride it out. I hear a woman screaming in her car.
I try to call people, to try to respond to urgent messages from friends and family. But almost every time I'm thwarted by the congested phone lines. My radio is my only comfort. Overseas news agencies call wanting the story from "on the ground".
It hits me that I may be without water or power, and what will I do? Thankfully the local dairy still has a few bottled waters left.
When I do arrive home, I can only glance through windows and locked doors to see items scattered on the floor. But the house seems intact and largely undamaged.
It's hard not to feel guilt when you compare your situation with those you see on websites and television screens. Whatever fright or inconvenience I might have endured seems so insignificant when others have lost their homes or even their loved ones.
The only comfort is that Cantabrians have pulled together and shown their resilience in getting past the last big quake in September.
As the night closes in, you get the sense they will somehow find the strength to get past this too.