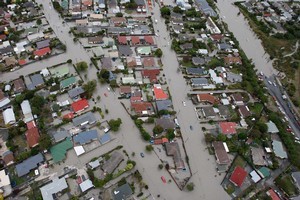 The earthquake that struck Christchurch during lunch hour yesterday was an aftershock seismologists hoped would never come.
Geological and Nuclear Sciences seismologist John Ristau said that despite its magnitude and damage, the quake was still classed as another aftershock - one of thousands - from the September 4 earthquake.
"Right from the start we've said that the general rule of thumb for major earthquakes like the Darfield earthquake is that the largest aftershock is about a magnitude unit smaller than the main shock," Dr Ristau said.
"Up until this point we hadn't seen that magnitude-six aftershock, and we kind of hoped that by now it wasn't going to happen any more."
Yesterday's 6.3-magnitude earthquake struck at 12.51pm. Its epicentre was in the middle of Lyttelton Harbour about 10km from the city centre and at a depth of 5km.
In contrast, the 7.1-magnitude September 4 quake happened at 4.35am, 40km west of Christchurch and occurred 10km underground.
Yesterday's earthquake was 30 times weaker but generated an amount of energy comparable to that of an explosion of 15,000 tonnes of TNT.
Dr Ristau described the quake as "very shallow" and said the fact that it was closer to the city would explain why the damage in some parts was greater than in September.
"Plus if you had buildings that were already weakened by the 7.1, then one like this would come along and finish the job."
Another GNS seismologist, Bill Fry, said the intense shaking from the earthquake that lasted about a minute was due to the peak ground acceleration (PGA), which GNS instruments measured at three different points in Christchurch as the same as the force of gravity. In September, the largest PGA felt around the city was on its eastern side, and this measured 0.8 times the force of gravity.
"In lay terms, what that means is if you were on the ground at the three different places we have measurements in Christchurch, the ground was actually accelerating faster than a rock would if you dropped it from a couple of metres," Dr Fry said.
"This explains its violence and intensity ... This was much larger than what happened in Christchurch itself during the September shock. We had one or two readings for that event that had PGAs of greater than one but not in Christchurch itself. We had three of those in Christchurch today."
More large aftershocks were recorded, among them a 5.7-magnitude quake eight minutes after the 12.51pm jolt, and others of up to magnitude 5.5.
The aftershocks would dissipate but would not lessen in violence, said Dr Fry.
He said it was too early to know if yesterday's earthquake was on the same fault line as the September shake.
Preliminary indications suggested it was a strike slip with oblique motion, meaning the earth moved side to side but occasionally up and down. The September 4 quake was a combination of reverse fault and strike slip, meaning the earth shifted horizontally and was thrust up vertically
Dr Ristau said the quake had been felt as far north as Tauranga, and there were reports of swinging lights in Pukekohe.
Seismologists had predicted that the South Island was due for a massive earthquake within the next 50 years. But that quake was expected on the 400km Alpine Fault, which runs between Milford Sound and the Lewis Pass.
Dr Fry doubted yesterday's earthquake would have any effect on the Alpine Fault. "We can calculate the stress transfer on that but statistically it's probably not going to affect it."
- additional reporting: NZPA