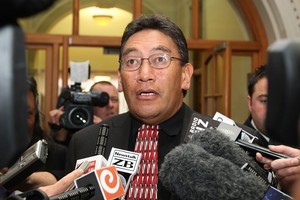 Te Ururoa Flavell has arrived at a meeting to resolve a complaint he laid against fellow Maori Party MP Hone Harawira, but it's unlikely Mr Harawira will attend.
Mr Flavell arrived at Papakura Marae to front the Maori Party disciplinary hearing early this afternoon, and made no comment to media.
Earlier today disciplinary and disputes committee chair Te Orohi Paul said Mr Flavell would wait in Auckland to attend the meeting in the event Mr Harawira turned up.

But she said Mr Harawira had given his apologies because of the Nga Puhi treaty claim hearings.

Asked if a recommendation on Mr Harawira's future was likely to be made to the national council, Ms Paul said that was the million dollar question.

She also appeared to hint that only Mr Harawira's side of the story had been told to the media.
This morning, the Herald obtained an exclusive copy of Mr Flavell's scathing criticism of his colleague.

Asked if Mr Harawira had put together a document similar to Mr Flavell's, Ms Paul said: "I'm sure Hone has because he's very good at putting his thoughts to paper."

Harawira wanted job as Minister - Flavell
In his submission to today's disciplinary committee hearing against Mr Harawira, obtained by the Herald, Mr Flavell said both he and the Te Tai Tokerau MP were prepared to take up ministerial positions - belying Mr Harawira's recent strong criticisms of his party for staying in the coalition.
"Put it this way: If he was to have received a ministerial position, would he still be writing to criticise the relationship? Answer: I doubt it."
Mr Flavell laid a complaint against Mr Harawira a month ago over a column the MP wrote in a Sunday newspaper in which he criticised the coalition and questioned the Maori Party's leadership and direction.
Mr Flavell revealed Mr Harawira's ministerial hopes to counter the MP's claims that the party had gone off the rails and sold its people out by dealing with National.
Mr Flavell was also scathing about Mr Harawira's criticism of National as "anti-worker" and "anti-environment," saying the MP had had difficulties with his own staff and once told the caucus he did not believe in climate change and nobody would tell him to drive a smaller car.
"So he champions the cause and yet abuses the cause as he feels."
Mr Flavell said Mr Harawira had backed the relationship with National at the time. He described the newspaper column as "lies, mistruths, misleading statements about everything but himself and his part in things".
In the often-emotional submission, Mr Flavell said it was not easy laying a complaint against his friend of more than 40 years and it had taken a toll on his whanau, the party and the other MPs, who had suffered personal abuse.
However, Mr Harawira appeared to have a deliberate strategy to cast the other Maori Party MPs in a bad light.
He depicted the maverick MP as "talking himself up" and "big-noting" by constantly painting himself as the only true voice of Maoridom. "That strategy is aimed at putting the rest of us down."
Mr Flavell also depicted brattish behaviour, saying Mr Harawira "spits the dummy" if he doesn't get his way and had a "Hone's view is right and everyone else is wrong" attitude.
He questioned Mr Harawira's conviction, saying co-leader Tariana Turia
left the Labour Party over the first Foreshore and Seabed Act.
"She is comfortable enough to support this [latest] bill. If it is that Hone is so vehemently opposed, then surely a belief in that principle would result in his walking as well."
Mr Flavell indicated things were past the point of no return, saying the other MPs "have lost any semblance of trust in Hone and clearly, he in us."
"I am clear that more hui with Hone or an electorate will not change things. He is his own man."
Last week, party president Pem Bird banned all of those involved in today's hearing from talking to the media, after Mr Harawira apparently breached an agreement by appearing on TV One's Marae.
Mr Bird did not return calls yesterday but has previously said the national council will meet tomorrow to decide on any disciplinary committee recommendation made today.
However, it is understood the Te Tai Tokerau electorate wants another extension, claiming many could not attend today's hui because of Waitangi Tribunal hearings in the Far North.