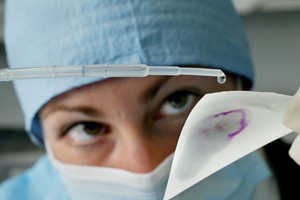 Fifteen people in the Auckland region are now confirmed to have measles since an Emirates flight arrived in Auckland from Brisbane in mid-January.
Eight cases were confirmed following the flight arrival but a number of the subsequent cases had occurred in the community without any obvious infection source, Auckland Regional Public Health Service (ARPHS) medical officer of health Richard Hoskins said.
Dr Hoskins said measles was a serious and highly infectious disease which needed to be taken seriously.
"This disease spreads easily through the air, especially from coughing and sneezing," he said.
"It commonly causes ear infections and pneumonia, and may lead to other serious complications and can, in some cases, be fatal."
Dr Hoskins said public health doctors and nurses had contacted more than 800 people who were in close proximity, or in the same room, as those with measles.
This would help assess whether the exposed people were susceptible to infection so they could target those who were.
Dr Hoskins advised parents to check their children's immunisation records and get them immunised if not.
"Immunisation is the only effective way to protect against the disease. The measles, mumps and rubella vaccine (MMR) is given in two doses, normally at 15 months and four years of age, giving over 95 per cent protection," he said.
Symptoms included a fever, cough, a runny or blocked nose, sore, red eyes and white spots inside the mouth. After three to five days a rash appears on the head and moves down the body.
Other cases of measles relating to the flight have been reported in Wellington and Christchurch.
- NZPA