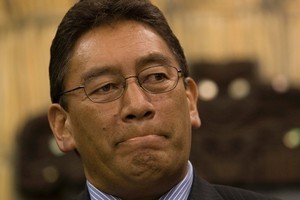 Waitemata Maori Party constituents are "appalled" at the party's treatment of suspended MP Hone Harawira.
Mr Harawira spent yesterday visiting the different offices in his Te Tai Tokerau electorate and following his stop in Waitemata, members said they had total confidence in him.
Mr Harawira became the subject of a formal complaint by fellow MP Te Ururoa Flavell last month, after writing a column that said his party had become too caught up in its coalition with National and was supporting anti-Maori policies.
He was suspended from the party's caucus on Monday, with co-leaders Tariana Turia and Pita Sharples saying the caucus had no faith or confidence in him.
A disciplinary committee met for five hours in Wellington on Wednesday to discuss the complaint, and adjourned so Mr Harawira could speak with his electorate yesterday and today.
Matua Selwyn Muru, of Waitemata, said Mr Harawira should be returned to caucus.
"We are appalled at how the mana of our rangatira (chief) has been treated in the isolation process, excluding him from important matters and issues that affect Te Iwi Maori katoa (all Maori)," Mr Muru said.
"The Te Tai Tokerau members in attendance will be attending the Maori Party Council hui to lodge their dissatisfaction at the lack of proper process taken without proper consultation and communication to their Te Tai Tokerau electorate."
- NZPA