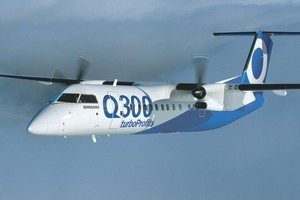 A plane carrying 44 people has safely made an emergency landing at Woodbourne Airfield near Blenheim, despite a nose wheel failure.
There were no injuries to the 44 passengers and crew on board the plane, operated by Air Nelson, a subsidiary of Air New Zealand.
A statement from the carrier says the nose wheel of the Q300 (Bombardier Dash 9) plane failed after touching down.
Despite what emergency services described as a "rough" landing, all 41 passengers and three crew on board were safe, the statement said.
They were being looked after in the terminal at Blenheim Airport and alternative transport was being arranged, it said.
The passengers were on board flight NZ8309 from Hamilton to Wellington.
Police said the plane was diverted to Blenheim when its pilot discovered problems with its undercarriage.
A spokesman for Blenheim Fire Service said all units were called to the airport shortly after 2pm.
Police and firefighters were on standby at the airport but the plane landed safely.