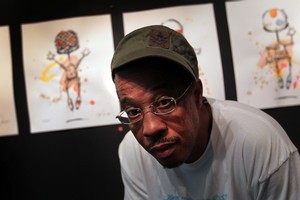 Walk the streets of any Auckland suburb and you'll see it. The incomprehensible scribble, or so-called tagging, which adorns the fences, walls, footpaths, lampposts and even the odd tree. They're the signatures of a band of, mostly, young people who come under cover of darkness, clutching spray cans, to leave their mark on someone else's world.
Tagging provokes reactions which range from exasperation to outrage. In 2009 Auckland businessman Bruce Emery was convicted and jailed for manslaughter after he chased two taggers outside his home and stabbed one of them with a knife.
But to others, it's street art, a form of expression and, in some cases, a treasure to collect and preserve.
Labelling tagging as street art is likely to raise the ire of New Zealand ratepayers who collectively fork out millions of dollars every year to clean up graffiti. Auckland ratepayers alone will spend $5 million this year and Mayor Len Brown is determined not to let up until he's scrubbed it all off.
But despite the bad rap, street art is gaining mainstream popularity. Thanks to the likes of British artist Banksy and his Oscar-nominated documentary Exit Through The Gift Shop, street art has developed more than a cult following.
American graffiti artist Eric Orr is exhibiting his latest body of work at Auckland's Rebel Yell Gallery in K' Rd. A big player in New York's street art movement in the 1980s, Orr gained notoriety for his trademark "robot head" icon. His work now hangs in galleries and private collections throughout the world.
Orr has visited New Zealand several times. It's the reaction to his work - and his message of promoting legal street art rather than random tagging - that keeps him coming back.
On his first trip to New Zealand for the Auckland Arts Festival in 2007, Orr found himself surrounded by young people watching fascinated while he painted panels at the base of the Sky Tower.
He returned the following year and travelled throughout the country doing painting demonstrations and workshops in schools, youth clubs and community centres.
Orr will spend February 11 and 12 painting at Splore City in the Auckland Town Hall. The first-time event is billed as an "urban taster" to the three-day biannual Splore Festival to be held at Tapapakanga Regional Park next February.
But while Mayor Len Brown is full of praise for artists such as Orr, he has no time for illegal street art.
"Tagging is criminal damage. It impacts on people's perceptions of themselves, their view of their community."
Brown takes the issue so seriously he has included the launch of an anti-tagging initiative in his "100 projects in 100 days" campaign, which kicked off when he took the helm in November.
He wants to get fresh tagging and graffiti cleaned up within 24 hours and to completely rid Auckland of it before the upcoming Rugby World Cup.
It sounds like an impossible - and relentless - task in a city where graffiti is as familiar a sight as street signs. Not so, says Brown.
"I think we're well on to it."
He gives examples like the Yates building in central Auckland's Albert St, covered in graffiti for years, as proof that he's making progress.
Auckland-based artist Charles Williams, who goes by the name of Phat1, thinks Brown is doing the right thing in painting over graffiti as soon as it pops up. But it's the education side of his campaign that he'll be watching with real interest.
"If it was my house or my fence, I would love it to be cleaned off. So what he's doing so far is good, but he needs to think of educating and mentoring systems for these kids. Because at the moment it's like telling someone they've done something wrong after they've already done it," he says.
Williams is among a growing movement of legal graffiti artists in Auckland, whose work is in hot demand here and overseas. He's now in his 30s but he understands the mentality of the young people literally making their marks throughout the city, because he was once one of them.
"There are teenagers who are ticking time bombs, emotionally. They're walking around and they don't care about society, they don't care about your property, or your bus.
"And these guys do what they do to be accepted; to become known and accepted in their sub-culture. Even though they're breaking the law it's outweighed by this attention that they've never had before."
Another local artist, who wants to be known by his street art alias Oscar Low and member of the Auckland street art co-operative The Cut Collective, says tagging is about "fame, identity, belonging, revenge, socialising, rebelling, excitement, destruction and protest".
Last year Low found himself on the wrong side of the law - convicted of graffiti on personal property in the Auckland District Court for a stencil piece he did on a car park.
He acknowledges that there is a fine line between vandalism and art and accepts there are two valid sides to the argument.
"Street art can be both vandalism and art. It depends on location and content but mostly on the intention of the person who put it there. It's open to personal interpretation too. Some would call vandalism a form of art in its own right, but of course in the face of a system that views things in black and white, the complexity of issues like this are a forgone conclusion for expediency's sake."
What's more, Low says, more needs to be done to encourage young people into the arts.
"There can always be more facilities for young people, especially those who don't find sport very engaging. More could be done to engage kids artistically full stop - not just those attracted to graffiti and street art."
For artists like Low, Williams and Orr, it's with some scepticism, even mild amusement, that they sit back and watch the sub-culture they've been a part of for so long cross over into commercial territory.
"It's the Banksy scenario. It's not until someone really grabs a hold of it and adds value to it that it becomes really accepted," says Williams.
"Banksy started off on the street. And suddenly you had people paying tens of thousands of dollars for his art, which is vandalism."
But finding legal spaces to paint on or exhibit street art are scarce in communities where the majority of ratepayers just want to get rid of it.
Kate Muggeridge, curator of Lost Play Grounds, an exhibition of works installed outside and around the Britomart Precinct, says getting the show off the ground was hard slog.
"You need special permissions, permits and insurance from a number of different parties. It's a shame there are so many barriers because street art is a great way to give a platform to emerging artists."
Williams agrees it's not easy finding a spare wall that someone is happy to give to a bunch of kids to cover in graffiti. But he still believes there is no reason why Auckland can't be the new Melbourne, which is now touted as one of the world's street art capitals. He says the focus needs to be shifted from illegal art, to legal art.
"Just think about Melbourne and all the alleyways and how beautiful it is and how much value it adds to the city. We can do the same thing here. You can add value to a place like South Auckland, which people look at as a ghetto.
"We can turn these ghettos into a live gallery," he says.
Orr doesn't think the problem of graffiti vandalism will go away.
"Tagging started in New York because there was no guidance," he says. "So we were out there - mostly teenage males who, when that machismo factor kicked in, wanted to be noted. It's misguided, but you have to understand that those kids are reaching out.
"Even before the spraycan people were carving their names on property. You've got to show them this sort of destruction's not acceptable. There's a different way to do it."
Orr's exhibition at Rebel Yell Gallery in Auckland runs until Wednesday. For more information about Charles Williams visit www.myspace.com/realphat1.
The Lost Playground show at Britomart runs until February 28.