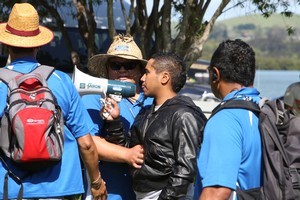 Controversial Maori Party MP Hone Harawira has defended a protest by his nephew as Prime Minister John Key entered Te Tii Marae for Waitangi celebrations today.
Wikitana (Wi) Popata, with his brother John, launched a protest directed at Prime Minister John Key and other dignitaries entering the marae, yelling through a loud hailer: "Why are you here? The enemy is amongst us.
"He is the one responsible for stealing our lands and killing many of our rangatahi (young people)," said Mr Popata this morning. "We must become a free nation from this corrupt government... from these injustices that he's put upon our people."
Mr Key said he wasn't offended by the protest, saying he had learned from his 2009 experience.
"This time I think there was a bit more tension, I think that reflects that there's tension between Hone Harawira and the Maori Party, but what I do hope is that New Zealand people understand that that is one or two people expressing their views."
After the formalities on the marae, Mr Harawira said he was happy to see Wi Popata protesting.
"I was really proud of the protest, actually," he said. "We were told we had to be very polite and welcoming on the marae and lay down the issues in that way... which leaves the outside of the whare ... to raise the dust.
"So when I heard them, I was really proud of them."
But he didn't go as far as endorsing Mr Popata's view that Maori Party MPs, with the exception of Mr Harawira, were traitors.
Mr Popata and his brother John Junior Popata were convicted and each sentenced to 100 hours' community work for the 2009 Waitangi assault on Mr Key.
Mr Harawira said it was heartening to see Dr Sharples at the lower marae and he said he had hopes for resolution of the party's current crisis.
"I sincerely hope as, like Pete (Dr Sharples) says, we can work this out and move forward."
Maori Party MP Te Ururoa Flavell made a complaint to the National Council following Mr Harawira's column three weeks ago in the Sunday Star-Times, which included a barrage of criticisms of the party and its coalition with the National Party.
Despite a meeting between Mr Flavell and Mr Harawira this week, the complaint remains unresolved and the party's disciplinary committee will meet on Wednesday.
PM wants to work with Maori Party again
Earlier today, Mr Key told iwi gathered at Te Tii Waitangi marae that he wanteds to work with the Maori Party again after the election.
Mr Key said if he was in a place to do so, he was keen to continue his party's relationship with the Maori Party.
He said while some - including Mr Harawira - were dissatisfied, he believed progress had been substantial.
Mr Key also sent a message to Mr Harawira about his calls for the Maori Party to ditch its arrangement with National.
"We all have our views. I know Hone has his views. But in Opposition you stop things. You don't create things. That's why I don't want to return to Opposition."
He said those at the meeting should focus on getting their children educated rather than constantly relitigating old grievances.
There were some muted objections when Mr Key outlined the reasons for government support for the new foreshore bill and the value he believed his 'boot camps' were having. However his speech - in particular his attempt at an extended mihi in te reo - was politely listened to.
Inside the marae, Ngapuhi kaumatua Kingi Taurua said Maori believed the seas, the rivers and the mountains belonged to them. "So why do we have to go to court to prove our rights?" he asked.
On the way out of the marae, Mr Key was again confronted by protester Wikitana Popata, but he didn't manage to get close to the Prime Minister.
Protesters also hecked Maori Affairs Minister Mr Sharples, yelling at him "shame, shame" and calling him a "plastic Maori".
Marae committee chairman tries to evict media
Mr Popata's protest was not the first controversy of the morning as Hama Apiata, the chairman of the Waitangi Marae Maori Committee, earlier tried to evict the New Zealand Herald and a TV3 reporter from the marae grounds, saying TVNZ had paid exclusive rights for the coverage.
Others from the marae defended media, however, and said they were allowed to be there.
In a controversial move, the Te Tii Waitangi Marae has demanded that media organisations wanting to enter the marae to cover the celebrations pay a $1000 koha (gift).
The move has incensed many, who claim it is a fee and not a koha, and have refused to pay up.
- with NZPA