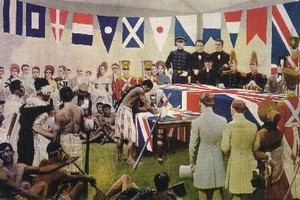 February 6, another year and another celebration of a treaty signed in 1840 by the Crown and Maori.
It's as good a time as any to reflect on the state of Maori-Pakeha relations - a state that's ultimately measured by progress on Treaty settlements, which seem to have been taking an awfully long time.
In the run-up to this Waitangi Day, Treaty Negotiations Minister Chris Finlayson told Radio NZ his plan to have all claims settled by 2014 was "an aspirational goal", not a deadline.
"I've got an ambitious programme, I'm working very hard on it. We've signed as many deeds of settlement [13] in two years as Labour signed in nine," he boasted.
The minister was responding to concerns by a number of iwi that the fast-track process is having disastrous consequences - mainly because, in its haste to settle, the Government is signing deals with iwi groupings to the exclusion of legitimate tribes and hapu. Iwi expressing misgivings are spread far and wide - from Ngati Kahu in the far north to Te Atiawa at the top of the South Island.
"People want to get their deeds of settlement," said Finlayson. "They see the advantages that have accrued to Ngai Tahu and to Tainui as a result of their settlements in the mid-90s. Some of them have been waiting a very, very long time."
The chief negotiator for Ngati Kahu, Margaret Mutu, said two quite different agendas were at work. "The Crown and this minister just want to get rid of these troublesome claims. The purpose for settling these claims for Maori is to right wrongs that were done."
THE ARGUMENT is not new. In 1994, when Sir Douglas Graham was the Minister in Charge of Treaty Negotiations, he introduced the idea of the "fiscal envelope" - that total claims would be limited to $1 billion over 10 years. It included a cut-off date of 21 September 1992 to signal which claims would be classed "historical" and which would be "contemporary". Later, the "envelope" became a "guideline", which was dropped altogether in 1996.
Anyone who has observed the Treaty settlement process - especially when the Waitangi Tribunal is involved - will know it is inherently slow. Some would say painfully so. The tribunal is a uniquely New Zealand institution - part court, part theatre, part hui and peculiarly convoluted. Hearings, often held on marae, begin with the obligatory powhiri - challenge, whaikorero, waiata, plenty of hongi and, later, plenty of kai. Eventually, everyone - judges, lawyers, government bureaucrats, claimants and the public - leaves their assorted footwear on the wharenui porch and gets down to business.
Unlike a traditional court, the public gallery usually has some leeway to interact. Kia oras, groans and other comments provide a steady stream of feedback. Sometimes the judge will entertain a public forum. There are common themes: "History is being told that needs correcting" ; "If the Crown doesn't get this right it will be revisited in the future"; "The Crown is wrong - there hasn't been a time when it hasn't been wrong."
In tribunal claims everyone is heard, much historical evidence is weighed and finally, usually after several years, recommendations about Crown wrongs and possible redress are made. The baton is then handed to the Office of Treaty Settlements, which enters into formal negotiations with the parties concerned to make the wrong right. The problem with the tortuous, inclusive and fair process is the queue. Once in line, waiting for the under-resourced tribunal to work its way through a very long backlist can take decades.
Which is why, ever since the 1990s, most iwi have adopted the fast track - bypassing the tribunal for direct negotiation with the Crown. The fast track has produced some impressive results, including the largest-ever Treaty settlement - the "Treelords" deal with central North Island iwi in 2008.
Negotiated by Crown facilitator Wira Gardiner and Labour deputy Prime Minister Michael Cullen, the deal represented a seismic shift in the way the Government went about reaching agreement.
Prior to Treelords, direct negotiations everywhere were coming unstuck. Throughout 2006 the Waitangi Tribunal had received complaints from hapu and iwi around the country who felt they were being unfairly treated in Office of Treaty Settlements (OTS) negotiations. The situation got so bad that in November 2006, tribunal acting chairwoman Judge Carrie Wainwright called a conference in Wellington.
It was to decide whether there should be an urgent inquiry combining the complaints of more than 50 Maori groups concerning unfair and prejudicial treatment by the Crown. The turnout of lawyers at the event was, by all accounts, unprecedented in the tribunal's history.
Issues raised included the Crown's policy of only negotiating with "large natural groupings", its method of mandating whom it negotiates with, how it decides on priority, and ensuring that Crown assets were available for redress and not sold off.
There was further bad news in 2007 when the tribunal delivered two reports on OTS deals concerning Te Arawa and Tamaki Makaurau iwi. The tribunal was scathing.
Of the Tamaki Makaurau settlement with Ngati Whatua o Orakei, which excluded other Auckland iwi, it said: "... the Crown's policy and practice has been unfair, both as to process and outcome ... this draft settlement really must be stopped in its tracks."
Of the Te Arawa deal, which excluded half of the iwi in the Te Arawa area, the tribunal said: "OTS failed to act as an honest broker in the negotiation process ... OTS did not act honourably and with the utmost good faith ... Te Arawa is now in a state of turmoil as a result. Hapu are in contest with other hapu and the preservation of tribal relations has been affected."
The tribunal's recommendations forced the Crown to reconsider its one-tribe-at-a-time negotiations and adopt a regional approach to claims. For Marutuahu iwi lawyer Paul Majurey, representing claims in Hauraki, Tamaki Makaurau and Mahurangi, it was a radical shift in Treaty policy.
For years Hauraki claims were going nowhere, deadlocked over which of two umbrella iwi groups should represent the Hauraki tribes. The stalemate was resolved by Finlayson suggesting each of the 12 Hauraki iwi hold hui to elect negotiators with an "interim mandate" to allow negotiations to get under way.
"That decision was bold and right for the time," says Majurey. "It unlocked five years of stasis and established the Hauraki Collective of iwi, which is now negotiating with the Crown."
Making the breakthrough with Finlayson was Crown facilitator Sir Douglas Graham. They also did something not tried before - put a deal on the table for everyone to see, including the amounts the Crown thought they should get. For the iwi of Hauraki that amounted to a total offer worth more than $100 million that is now under negotiation. "It's possible we will be dissatisfied with what's finally offered," says Majurey "But we have wanted to get to this point for many, many years. So the fact we are finally in active negotiations means the end of the settlement phase is that much closer."
But while the new fast-track, regional approach is working for some, elsewhere there are signs the Crown is reverting to its old ways - accepting artificial groupings and arbitrarily excluding iwi or forcing them to join groups to which they don't belong. One such example in Tamaki and Kaipara is Te Taou (see "The Lost Tribe" at www.nzherald.co.nz).
Another is the $110 million Ngati Porou Deed of Settlement due to be introduced into Parliament this month. Three tribes - Ruawaipu, Ngati Uepohatu and Te Aitanga a Hauiti, in the area between Gisborne and Potaka - have made an urgent application to the Waitangi Tribunal to have the settlement stopped.
Tamaki Legal lawyer Linda Thornton, representing the iwi, has presented historical research to show how the three original tribes of the area were sidelined in aftermath of the 1864 East Coast wars by Ngati Porou, which had sided with the Crown. Adding insult to injury, the tribes are being told the mandate to settle their claim resides with Te Runanga o Ngati Porou. "The Crown is effectively saying to these tribes 'you're Ngati Porou and if you're not, then you're nobody'," says Thornton.
She raises concerns also that the Crown is rushing into a $110 million settlement with Ngati Porou with the support of just 3191 of 17,863 registered beneficiaries. Out of 17,863 ballot papers sent, only 3504 were returned. Worse still, members of Ruawaipu, Ngati Uepohatu and Te Aitanga a Hauiti were excluded from the vote. "Our clients are really angry about being excluded and the fact they haven't had a tribunal hearing where they can take their grievances and be heard."
ANOTHER CASUALTY of the fast-track process is history. Not only is it recast and manipulated to suit an outcome, history can also be hidden by our Official Information Act.
In 2003, Majurey, battling for Marutuahu recognition in Auckland, asked for access to the reports by historian Bruce Stirling, who Ngati Whatua had commissioned to support its Auckland claims. Ludicrously, the Office of the Ombudsman turned down the request, saying its release would "have adversely affected the relationship of trust" in the negotiations. History is commercially sensitive.
Later the Crown was shown to have concealed documents critical of Ngati Whatua's Auckland claim, including an assessment by Crown Law historian Donald Loveridge showing it did not uncritically accept the research put forward by the iwi. At the same tribunal inquiry, other historians put forward histories of Auckland that painted different pictures of what happened in the region pre- and post-1840.
Defending the Ngati Whatua position at the time was lawyer and historian David Williams, who took part in protests at Bastion Pt. Williams argued that the release of Stirling's historical research, withheld under the Official Information Act, wouldn't have made any difference.
"It would have been seen to be a Ngati Whatua-commissioned piece of research that happily sustained the Ngati Whatua position - as most researchers who work in the Waitangi Tribunal happily do for their clients. It's one of the reasons why I left the business."
Tribunal judge Wainwright asked Williams: "How can the Crown know whether the Agreed Historical Account ought to be agreed unless [it] can understand the interests of others as fully as [it understands] the interests of Ngati Whatua o Orakei?"
Williams argued that if hearings were genuinely truth and reconciliation hearings, it would be possible for Maori to operate in a less adversarial way.
"But we are talking about very modest redress in practical terms. I don't think it's fair. I know so many kaumatua who have died since I started working with them and they didn't see a settlement come. I know the mokopuna are still going to be waiting if we lawyers and historians keep arguing and the tribunal stops the process and tells us to start again."
What is worrying about some of the history emerging from Crown settlements is that it's not historical fact, but secret negotiation and tacit agreement. A more disturbing conclusion is the history that eventually surfaces may not be just biased, but patently wrong.
Post-modern theorists will argue history has always been negotiated. But if, as Williams suggests, the ultimate goal of the Treaty process should be truth and reconciliation, perhaps the Crown, in its "aspirational goal", should proceed with less haste.
BY THE NUMBERS
$161 million settlement to Central North Island Forests Iwi Collective
$170 million settlement to Ngai Tahu
$170 million settlement to Waikato/Tainui raupatu