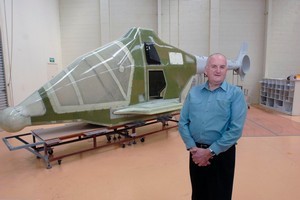 A former National Party MP has been jailed for one month for withholding the designs of his company's unmanned military stealth helicopter.
Trevor Vicemar Rogers' company TGR Helicorp Ltd went into receivership in February 2008, after which Rogers told the receivers all its tangible assets had been sold or destroyed.
But the receivers were sceptical and took him to court in December 2008, resulting in a search for remaining assets.
Nothing was voluntarily disclosed by Rogers, 67, or fellow director, wife Glenda, but some important assets were found, Judge Peter Woodhouse said in his December judgement.
However, other assets were not found, including the technical drawings, specifications and documents relating to the prototype of the unmanned combat aerial vehicle, called the Snark.
Judge Woodhouse said in December that unless these remaining assets were provided to the receivers by February 2, Rogers would be imprisoned for one month.
True to his word, Judge Woodhouse jailed Rogers in the High court at Auckland today, deciding he was still withholding the designs and was therefore in contempt of court.
"There has been dishonesty of a serious kind for a long time by Mr and Mrs Rogers, all of which has been directed to seeking to preserve assets for the personal benefit of Mr and Mrs Rogers," he said in December.
"The Snark prototype was retained and hidden away from the assets that were discovered in the first search. The plain intention was to sell this prototype, or use it for further development.
"The evidence of Mr and Mrs Rogers that the (designs were) destroyed is not credible. Amongst other things, I do not believe that the most valuable asset of the company, and the asset that was most easily retained and hidden, would have been destroyed when large items were carefully hidden."
The $5 million Snark helicopter, 8m long, was said to be the world's first diesel helicopter, satellite-controlled with full stealth capabilities, and automatic weapons system including rocket launchers.
Rogers has said future wars would be fought with the machines.
Rogers was an MP for the Otara and Howick electorates between 1990-1996 for National and then left to join the Conservative Party.
- NZPA