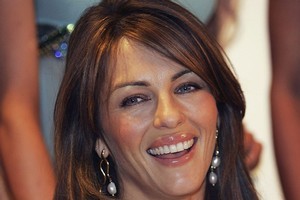 Prime Minister John Key's description of a number of female celebrities has gone international, with a British newspaper labelling his comments sexist.
In an interview on Tony Veitch's Radio Sport breakfast show on Friday, Mr Key was asked if he would like to be Australian cricketer Shane Warne, and replied: "Yeah, well given his current liaisons with Liz Hurley."
"I like Liz Hurley actually. I reckon she is hot," Mr Key said.
He later said actress Jessica Alba "looked pretty hot", and described Angelina Jolie as "not too bad" either.
Green MP Sue Kedgley, a women's rights campaigner, told Sunday News Mr Key's comments were boorish and unbecoming of a prime minister.
"He is obviously trying to appeal to a sporting audience, but it does sound a bit odd to be going on and on about women who are 'hot', etc," she said.
British website Mail Online was today running a story titled "Liz Hurley is hot': New Zealand PM slammed over 'sexist' remarks", which said Mr Key's comments had sparked a "sexist row".
Speaking to media this afternoon, Mr Key said he was fine with what he had said.
"I think she'd be thrilled," he said.
"If you go back and have a look at my recent history of rankings, I think you'll find that Liz Hurley's been quite high up."
Mr Key said he would be having a regular weekly spot on the radio show with Veitch, and that he was comfortable with that.
Veitch stood down from his sports presenting roles on TVNZ and Radio Sport when he was involved in a widely publicised assault case involving his partner Kristin Dunne-Powell.
He was convicted of injuring her with reckless disregard for her safety in 2009, and sentenced to nine months' supervision, 300 hours' community service and fined $10,000.
He was restored to his Radio Sport position last year.
- NZPA