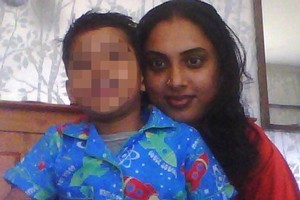 The woman who died after she was doused in accelerant and set alight will be farewelled at a service in Fiji today, as police continue to investigate her gruesome killing.
Ranjeeta Sharma, 28, was found on fire at the side of a rural road near Huntly last week.
She would be cremated today after a funeral at Wailoaloa Cemetery in Nadi at 1pm, the Fiji Broadcasting Corporation reported.
Mrs Sharma's husband, Davesh Sharma, was yesterday interviewed by Waikato police in Fiji in connection with the killing, but no charges have been laid.
Mr Sharma fled to Fiji with his four year-old son Akash the day after his wife's body was found. He was taken into police custody in Fiji on Tuesday, but has yet to be named officially.
Waikato police have refused to release details about the inquiry, although they confirmed yesterday the man was yet to be charged.
"We are currently evaluating the various options available to us," Detective Senior Sergeant Nigel Keall said.
"Our investigation has been benefiting from the full support of not only the Fijian police, but that of other agencies both over there and back here in New Zealand."
Mr Keall said police were still in discussion with people in relation to the ongoing care and protection of Akash, who is staying with relatives in Fiji.
Police said extradition was "one of the processes that was on the table and will be worked through".
Mr Keall said police were carrying out a variety of inquiries "that are all combining to build up a clearer picture of what has happened."
- NZPA