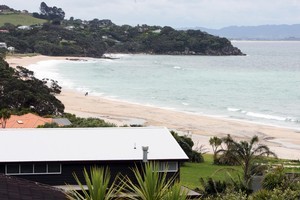 A 23-year-old man has been taken to Whangarei Hospital after a helicopter crashed into the sea off the Northland Coast today.
St John's Northland District Operations Manager Tony Devanny said the man was found near the wreckage of a helicopter off the coast of Langs Beach at about 2pm.
The wreckage was initially thought to be of a small plane.
He was transported to hospital by the Northland Emergency Services Helicopter.
An Air Force Orion spotted the man, who was the pilot and only occupant of the helicopter, in the sea off Waipu, 40km southeast of Whangarei.
A white smoke marker was dropped into the water and the man was picked up by the NEST rescue helicopter off the Northland coast, a spokeswoman for the Rescue Coordination Centre in Wellington confirmed.
Golfers playing at Waipu and another witness raised the alarm after seeing an aircraft fly low overhead just after midday.
"Five witnesses said they saw a light aircraft flying low, then heard a large bang and saw a big splash in the water just below Taranga Island," RCCNZ search and rescue mission coordinator Neville Blakemore said.
Mr Blakemore praised the witnesses for quickly reporting what they had seen.
"It was thanks to their quick actions in advising police and providing helpful and useful information that has led to the successful rescue of this person.
"It's always important that people inform authorities when they see something out of the ordinary - in this case it has probably saved this man's life."
The Orion joined at least one rescue helicopter in the search and the police launch Deodar III had been diverted from a task near Little Barrier Island to the scene.
Mr Blakemore said two aircraft and five vessels were in the search area.
- NZPA, NZ Herald staff