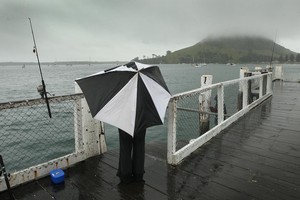 New Zealand homes may be whipped by the remnants of two tropical cyclones which are expected to merge south of Vanuatu on Tuesday.
Former tropical cyclone Vania has been downgraded to a tropical depression, but is moving south "packed with moisture", said WeatherWatch analyst Philip Duncan.
"The low is going to pull tropical moisture down to New Zealand early next week," he said.
And MetService weather spokesman Bob McDavitt, said that if a tropical cyclone encounters an injection of cold air as it approaches New Zealand, then it may "feed" on the difference in density so that the cold air turns the tropical moisture to rain, and that rain-making process lowers the pressure, so that the system becomes "extra windy".
But Mr Duncan said forecasters were also closely watching the newly-developed tropical cyclone Zelia, classified as a Category 1 cyclone with winds averaging 65km/h and winds gusting up to 120km/h.
Zelia is expected to quickly move across the warm waters of the Coral Sea this weekend which will transform it into a severe category 3 cyclone by Monday morning.
Zelia will likely track south of New Caledonia on Monday and quickly catch up to the remnants of Vania by Tuesday, said Mr Duncan. While it was rare to see two tropical cyclones merging like this, it simply meant more widespread rain and wind - more people will receive unsettled weather as opposed to winds and rain being twice as bad".
The main effect reaching New Zealand was likely to be rain, thought gales were possible in some main centres. A "worst-case" scenario would be 150km/h winds across exposed parts of the eastern Waikato, Hauraki Gulf and some parts of Northland and the Far North, he said.
Computer models show the two weather systems merging on Tuesday and Wednesday and moving much further west of New Zealand than initially forecast, which could have a serious impact for the Nelson region.
"We may see this tropical system feeding very heavy rain into the Nelson region during the week and following the flooding in December we advise locals to be prepared for possible flooding," said Mr Duncan.
State-owned forecaster MetService said the remnants of cyclone Vania are expected to pass near Norfolk Island on Sunday.
"Although the exact future track is not certain, present guidance indicates that Vania will pass west of the North Island on Tuesday night and move southeast over the northern South Island on Wednesday morning followed by a trough and another smaller low," it said. "This active weather system is likely to bring outbreaks of rain and a spell of north or northwest gales over northern and central New Zealand on Tuesday and Wednesday"
MetService predicted the heaviest falls will probably be in northern Westland, Buller, Nelson, Marlborough and north Taranaki where confidence of warning amounts is rising to high.
There was a moderate risk of severe north or northwest gales in exposed places across much of central New Zealand Tuesday afternoon to Wednesday but the risk is a little lower further north.
Separately, the MetService tonight issued a severe weather watch alert for Southland, Otago, Canterbury, Wellington, Wairarapa, Fiordland, and Westland from a front forecast to move across the South Island tomorrow.
It warned of northwest gales in exposed areas in the south and east of the South Island, Wellington and Wairarapa, and heavy rain in Fiordland and Westland, with up to 80mm falling over 15 hours.
- NZPA